Four Head Woodworking Machine Export to Singapore
Thorpe
Our client is from Singapore and he wants to produce wooden furniture and other furniture. We are a seller on alibaba.com. He is very interested in our Four Head Woodworking Machine and sent us an inquiry. He plans to visit our factory and learn how to use the Four Head Woodworking Machine. We showed him how to run the Four Head Woodworking Machine. After introducing the functions of the Four Head Woodworking Machine, he decided to buy 4 Four Head Woodworking Machine. Now we will deliver your CNC lumber route next week. We also need to invite his engineers to learn how to operate.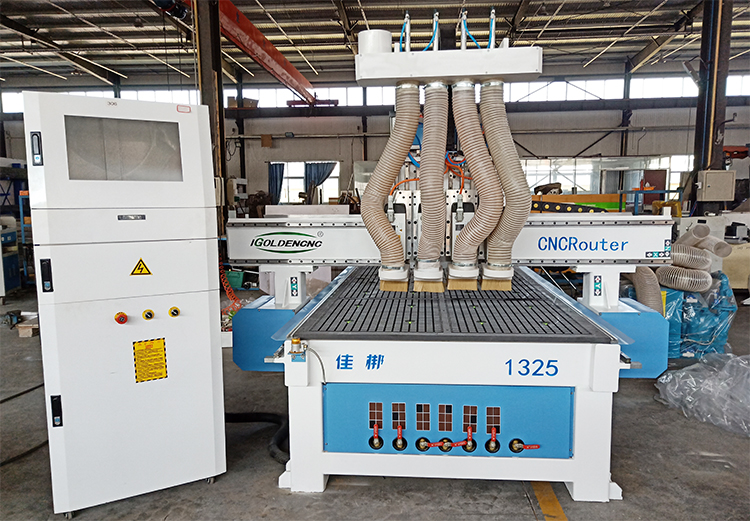 Four Head Woodworking Machine designed and fabricated by IGOLDEN company is the widely used CNC router for wood engraving and cutting works.this Four Head Woodworking Machine is with Engraving,drilling,cutting,edge guide,milling and so on are in one operation.The four processes switch heads,and the tool changing process is uninterrupted,realizing automation.This Four Head Woodworking Machine is mainly used in cabinet and furniture industry,advertising material production,metal mold carving and non-metal (marble,sand,plastic cloth,PVC board) mold carving.
This Four Head Woodworking Machine is specially engineered for wood door Industry.Equipped with Servo Motors and drivers,Taiwan linear square guide,double row of four row ball slide block,heavy load bearing,smooth operation,high precision,long life,double screw with high precision and precision cutting.LNC intelligent control system,user-friendly control interface design,fool operation,operators can be trained to work without technical workers.The Four Head Woodworking Machine uses strong rigidity and no deformation.The heavy-duty gantry is reinforced and thickened.The steel plate is processed by precision cutting,planer and welding,which is equivalent to secondary tempering treatment,so as to ensure long- term durability and no deformation of the gantry.The Four Head Woodworking Machine integral cast iron side plate is tempered at high temperature to prevent the deformation of side plate from affecting the travel accuracy of Y axis.
All the CNC routers can be shipped worldwide by sea, by air or by international express logistics via DHL, FEDEX, UPS. You are welcome to get a free quotation by filling up the form with name, email, detailed address, product and requirements, we will shortly contact you with the full information including the most suitable delivery method (fast, secure, discreet) and freight.