How to choose the best CNC Wood Router Machine?
Thorpe
What is CNC wood router?
CNC wood router is a CNC Machine that can do 2D/2.5D/3D routing, cutting, carving, milling, grooving, and drilling on woodworking. They are widely used to making cabinets, wooden doors, wood signs, wood crafts, wood artwork, wood modeling, wood musical instruments, and some wood furniture. If you are a woodworker, craftsman, wood fabricator, CNC wood machinist, DIY enthusiast, or wood carving beginner, then it is worthwhile to invest in a wood router now!
Components of woodworking CNC router: CNC controller, CNC operating system, CNC software, T-slot table or vacuum table, motor, frame, guide rail, gantry, spindles, driver, ball screw, vacuum pump, power supply, rack, limit switch, pinion, and collet.
By Axis: 3 axis CNC wood cutting machine, 4 axis CNC wood router, 5 axis wood CNC machine
By Application: CNC wood engraving machine for the home shop, industrial CNC wood router, tabletop CNC wood router, hobby wood CNC router, etc.
By CNC wood router table: CNC wood router 4×8, 2×4 wood router, 4×4 CNC wood router, etc.

What's the CNC wood router price?
How much does a CNC wood router cost? Well, iGOLDENCNC has various CNC wood routers for sale, the price range is $4000 – $30000, and the specific price depends on the machine configurations you choose! Whether you're looking for affordable wood CNC machines, inexpensive wood CNC machines, or the most expensive CNC routers, feel free to contact your budget and needs, and we will give you the most valuable advice.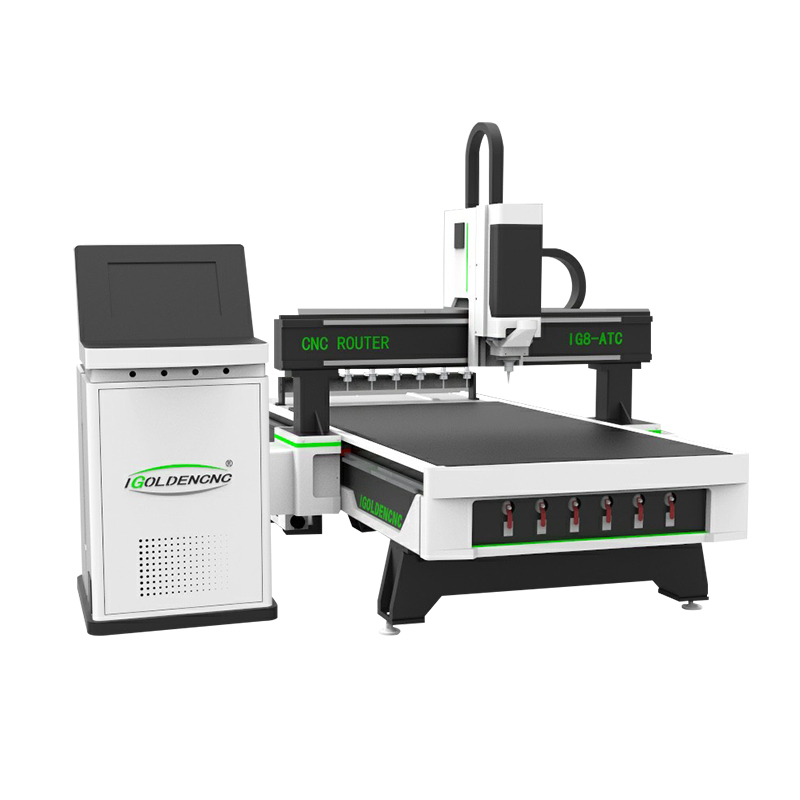 Where can we ship wood CNC machines to?
iGOLDEN CNC wood router manufacturer offers worldwide shipping. Whether you are in Pakistan, India, Canada, Bangladesh, South Africa, UK, the USA, or any other place, we will try our best to deliver quickly and timely.

How to choose the best CNC wood router kit?
A ridge cutter is suitable for the processing of high-density wood composite board (plywood, particleboard, hard fiberboard, blockboard, etc.) or solid wood (softwood, hardwood, and modified wood).
A double-edged straight groove milling cutter is suitable to process the multi-layer board and plywood.
A diamond machining tool is recommended to process the Acrylic mirror sheet.
A multi-strip milling cutter is perfect for the processing of rough machining particleboard.
A single-edged spiral ball-end milling cutter is suitable for processing the cork, density board, native wood, PVC board, and acrylic large-scale deep relief.
A single-blade special aluminum milling cutter is suitable for cutting Aluminum plates.
A round bottom cutter is recommended to process the meticulous small relief works.
A single-edged, double-edged up and down cutting cutter is perfect for the burr-free cutting process.
A double-tool large chip evacuation spiral milling cutter is suitable to cut the MDF board.
A single-edged spiral milling cutter is perfect for Acrylic cutting.
Wood CNC Machines for Sale
Where to buy a best CNC wood router 2022? Stop looking elsewhere! iGOLDEN wood CNC router supplier has collected them for you here! These automatic wood carving CNC routers are great tools for woodworking project makers. Our machine selection includes affordable CNC wood router kits, mid-range CNC wood machines, and professional CNC wood CNC machine systems. If you're stuck hesitating between machine models, feel free to contact us and know our CNC wood router reviews anytime! (Tell us your budget, materials that need to process, size requirements, and we will give you the most suitable recommendation!)
CNC Wood Router Projects & Applications
Furniture & Cabinets
The closet, wardrobe, cabinets, and other wooden furniture manufacturing are the most popular applications for computerized wood carving machine. Our Nesting CNC Router, ATC CNC Router, Multi-Spindles CNC Cutting Router are perfect CNC Routers for woodworking projects.
Why use a wood CNC router? Traditional woodworking workers can't meet the growing needs of the woodworking industry in terms of processing speed or accuracy. Wood CNC machines have the advantages of efficient use, mass production, fast speed, and high efficiency, which greatly help the manufacturers of furniture and cabinets. Moreover, The manufacturers of wooden furniture and cabinets can customize wood CNC machines according to their own economic conditions, production processes, and other actual needs. The flexibility of woodworking engraving machines brings great benefits to wood furniture manufacturers.