ATC CNC Router Machine with Automatic Tool Changer
Thorpe
ATC CNC router machine has two types of tool magazines: linear and carousel. Both of them can be installed beside the spindle or on the side of the machine bed. By changing different tools automatically, the ATC CNC machine can complete multiple and complex woodworking processes at one operation. It can realize cutting, carving, engraving, drilling, routing, grooving, and pocketing of wood, MDF, acrylic, PVC, plastic, foam, stone, soft metal and other materials. It is also called ATC CNC wood carving machine, wood engraving machine. Basic type 3 Axis ATC CNC can be upgraded to be 4 Axis, 5 Axis, Routary type, etc.
Description of the CNC router machine
ATC CNC Router for Sale. The CNC kit of automatic tool changer & ATC Spindle makes the CNC machine fetch the right bits automatically, and the rotary device is mainly used for 3D wood carving and cylinder objects carving.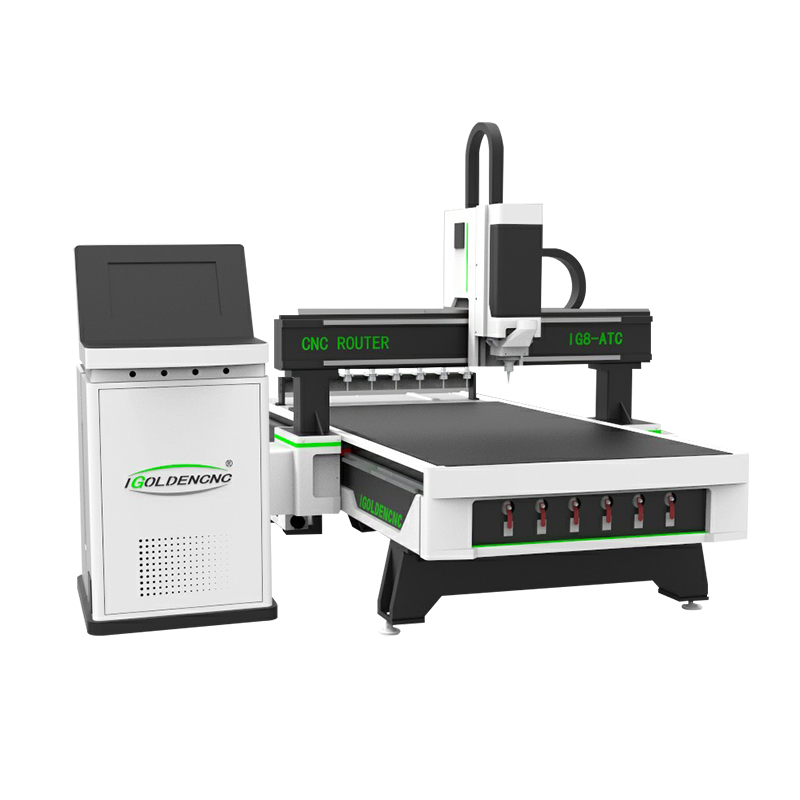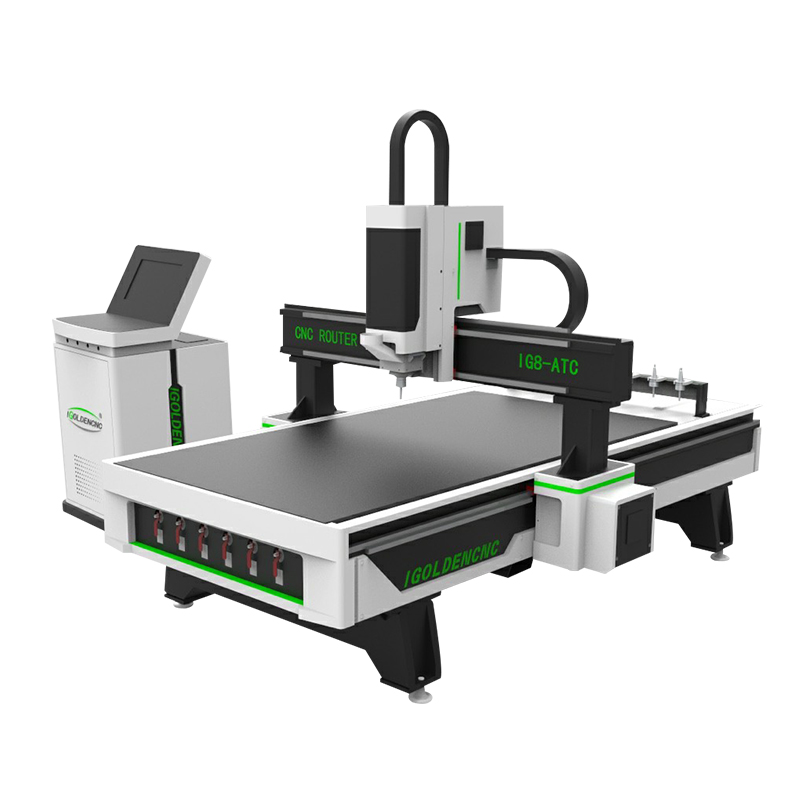 Features
1.Carousel automatic tool changer, ATC CNC machine can change 8 sets of tools automatically in wood engraving or carving, which saves a lot of time and labor cost for heavy-duty or long time woodworking.
2. The rotary device is manly for column processing such as chair frames, stair frames, roman columns, columns, etc.
3.The working size of the CNC Router can be customized according to your needs.
4.ATC CNC Router has a dust collector, so it can make the machine cleaner.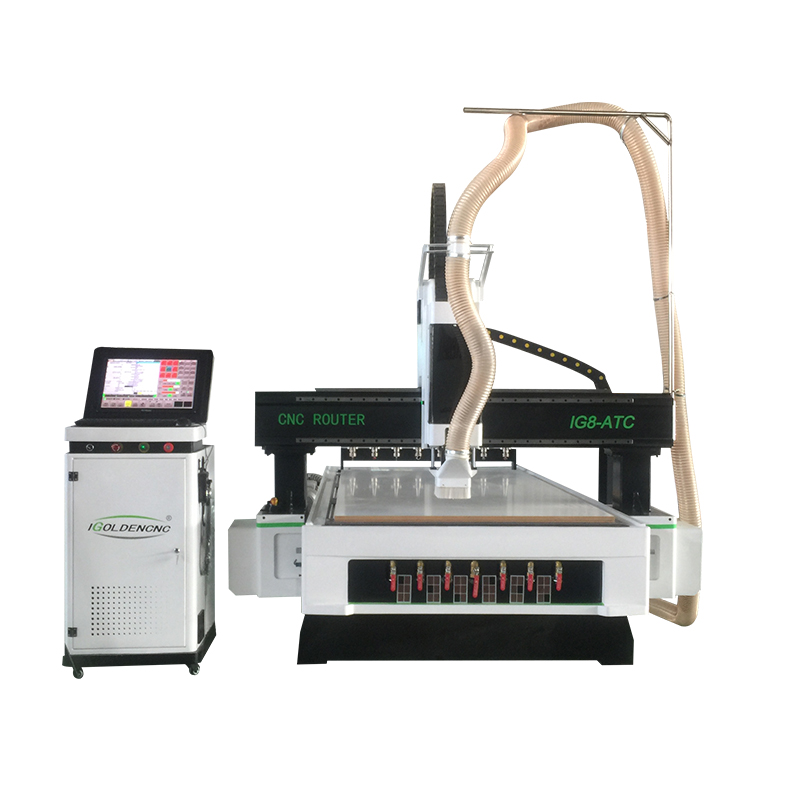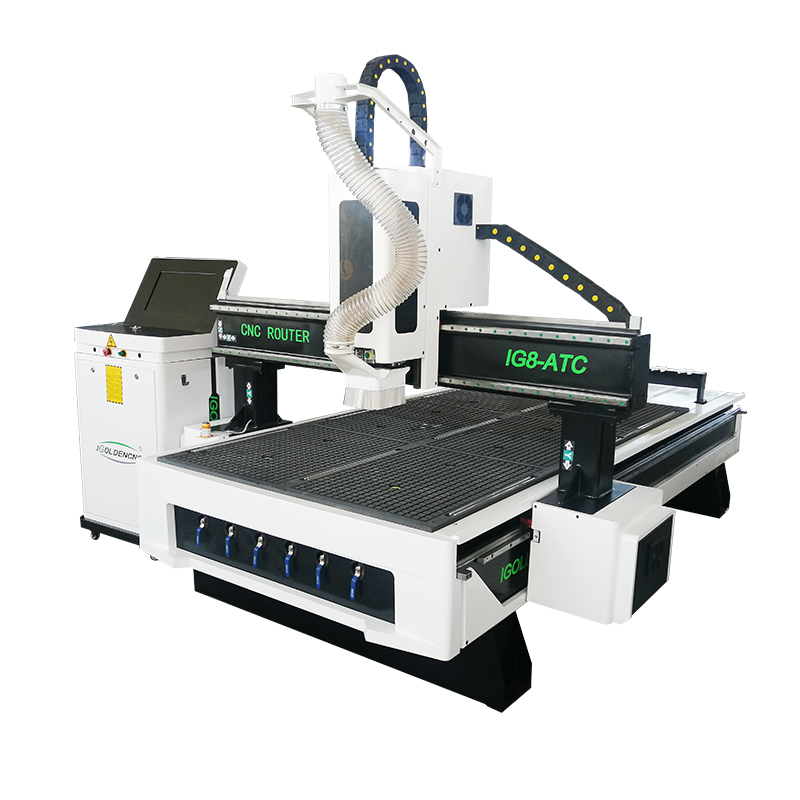 ATC CNC router machines can be used in various industries, such as furniture and home improvement, wooden crafts, cabinets, screens, advertising, musical instruments or precision instrument shell processing industries. And the materials that can be processed mainly include various non-metallic materials such as wood, glass, stone, plastic, acrylic, and insulating materials.
Woodworking
Home doors, 3D wave board machining, cabinet doors, solid wood doors, craft wooden doors, paint-free doors, screens, craft window making, shoe polishers, game machine cabinets and panels, computer tables and panel furniture making.
Mold Making
It can make metal molds such as copper, aluminum, iron and more, as well as non-metal molds such as wood, stone, plastic, PVC, and more.
Advertising & Hobbyists
Sign making, logo making, lettering, acrylic cutting, blister molding, and decorations.
Industrial Manufacturing
It can make all kinds of shadow sculptures and relief sculptures, which are widely used in the crafts and gifts industries.