Industrial Laser Fabric Cutting Machine for Sale
Thorpe
The best industrial fabric laser cutting machine with large conveyor table and automatic feeding system for fabric cloth, textile garment, fashion apparel, and leather fabric in industrial manufacturing. Now the best industrial fabric laser cutter for sale at affordable price.
CO2 Laser Engraving Cutting Machine for thin metal and non-metal material, the standard worktable size is 1300*2500, equipped with 180w/260w/300w laser tube, to meet the engraving and cutting needs of large-format plates such as stainless steel, carbon steel, wood, acrylic, etc.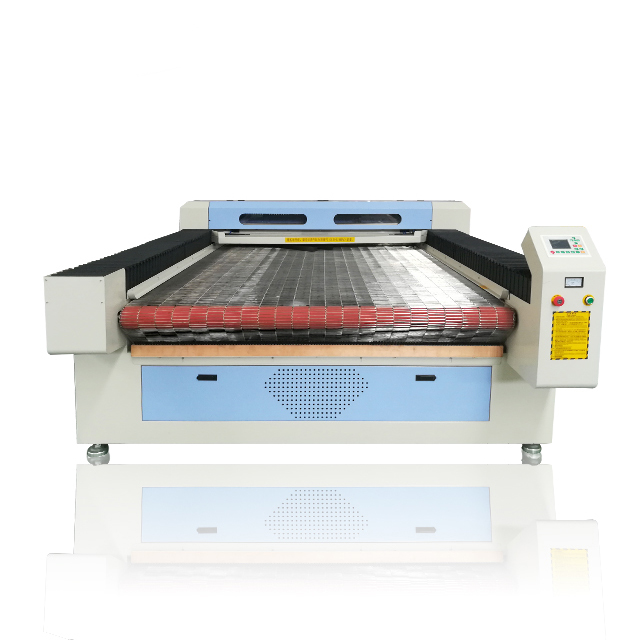 Fabric laser cutting machine is a type of CO2 laser cutting system with automatic feeder and roller for all kinds of fabrics (silk fabrics, pure cotton fabrics, decorative fabrics, polyester fabrics, chemical fiber fabrics, pure linen fabrics), felts, grey fabrics, dust-free cloth, non-woven fabrics, patch embroidery, leather (leather, artificial leather, decorative leather) , Packaging leather, soft leather) and other clothing accessories and leather materials cutting or engraving. Laser fabric cutting machine is mainly used in clothing industry, shoe industry, home textile industry, embroidery industry, trademark industry, cloth toy industry, leather industry, luggage industry, umbrella industry, medical industry, purification industry, aviation industry, and warp knitting industry.
Industrial fabric laser cutting machine is also known as industrial laser fabric cutting machine, industrial fabric laser cutter, industrial laser fabric cutter, industrial garment laser cutting machine, industrial laser garment cutting machine, industrial garment laser cutter, industrial laser garment cutter, industrial textile laser cutting machine, industrial laser textile cutting machine, industrial textile laser cutter, industrial laser textile cutter, industrial laser cloth cutting machine. It is an industrial CNC laser cutting system with CO2 laser tube for fabric cutting with high speed and high quality.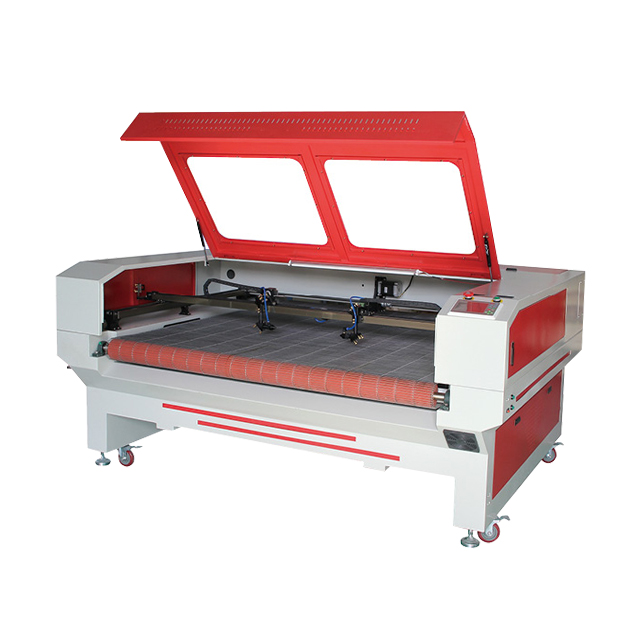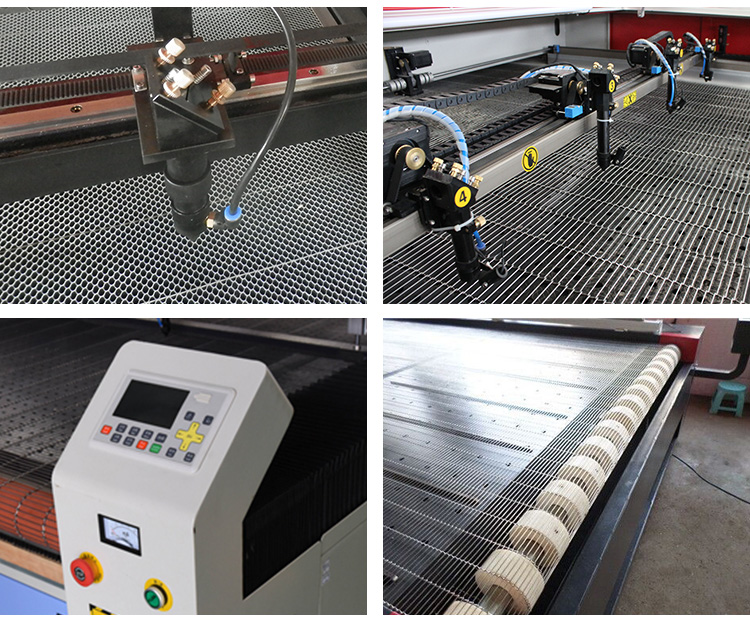 Industrial fabric laser cutting table adopts automatic feeding system, honeycomb table with special design, convenient for free movement of processing pieces.
Big table size to meet large format fabric cutting.
Channel feeding, the feeding can be unlimited.
The original binding beeline lead rail, the fabric laser cutting table is running well and stable.
Brush roll can clean the worktable timely, without catching fire phenomenon.
Edge smoke outlet can protect the nets-worktable, extend the usage life of the laser fabric cutting system.

Industrial Laser Cutting Machine Applications
Laser fabric cutter is suitable for cutting all kinds of nylon cloth, polyester cloth, canvas, waterproof cloth, microfiber dust-free cloth and other fabrics, especially suitable for cutting larger size products, such as sports goods, leisure travel goods, etc. It can also be used for processing veneer cut flowers, leather products, acrylic products, etc. The basic principle of the laser fabric cutting system is to use a laser beam with high intensity and concentrated direction as a cutting tool, and use the laser beam to melt the fiber material to realize the cutting operation.