Multi-spindle CNC Machine at Pakistan Exhibition Online
Thorpe
In June our company held an online show in Pakistan. This exhibition shows our series of woodworking machines: hot selling 1325 size woodworking engraving machine, high performance straight tools changer router, multi-spindle CNC machine, disc tools changer router, side hole drilling machine, panel saw, edge banding machine, hinge drill, laminating machine. Today we are going to introduce one of our star products: the multi-spindle CNC machine.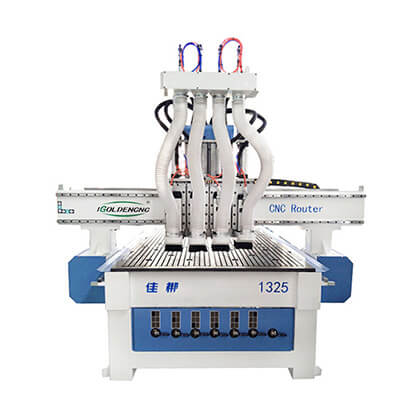 The Multi-spindle CNC Machine adopts 4.5kw/6kw air-cooled spindle, full servo drive system. original electrical components and other components, with stable performance.
Multi-spindle cnc router 4 sinples
Vacuum adsorption table can strongly absorb materials of different areas. The processing of small plates has no displacement, the processing surface is smooth, and the plate size is accurate.
Multi-spindle cnc router vaccum table
Taiwan LNC control system: support the international standard G-codes and compatible with the G codes of FANUC. Provide multiple functions to simply programming operation. Be able to control servo motors installing absolute encoders. Open style PLC makes second development convenient.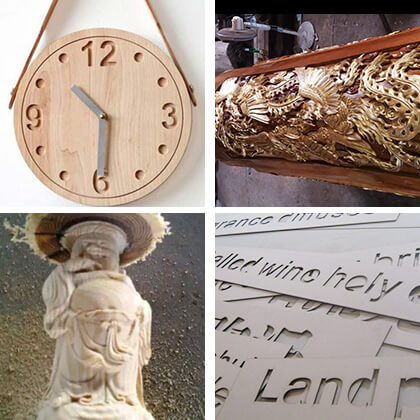 Multi-spindle cnc router TWAIWAN control system
Electric oiling: automatic oiling can be set according to the time, to ensure the lubrication of slider lead screw guide rail, and extend the service life.
Multi-spindle cnc router electric oiling
Transmission of penumatic 4 spindles ATC cnc: XY axies adopts 25 square rail guide, smooth operation, high precision, long life. Axis ball screw structure, the machine head runs stably and powerfully, and the spindle will not drop when the power off.
Multi-spindle cnc router rail guideMulti-spindle cnc router ball screw
The limit switch is used to control the travel and limit protection of mechanical equipment, prevent engraving failure caused by exceeding the processing range during engraving.
IGOLDEN CNC is the leading CNC router designer, manufacturer and exporter since 2003.  We have over 400 professional staffs and over 70,000 square meters factory. Our high quality innovative products include ATC CNC routers, CNC engraving machines and CNC carving machines, etc. OEM and ODM are available. Our annual CNC machine output is over 12,000 sets, which had been exported to over 136 countries.