Portable CNC Plasma Cutter for Sheet Metal
Thorpe
What is the Portable CNC Plasma Cutter?
The Portable CNC Plasma Cutter for sale machine has a compact and microstructure. The horizontal and vertical rails of the whole machine are made of hard aluminium alloy, which reduces the weight of the equipment, so as to achieve the characteristics of easy movement, compact and flexible operation. It is an ideal upgrade product to replace handheld flame-cutting equipment, handheld plasma cutting devices, profiling cutting machines and semi-automatic cutting carts. The use is as flexible and convenient as the cutting trolley, and it can be moved at will without occupying a fixed site. It is a CNC equipment specially used for sheet metal blanking.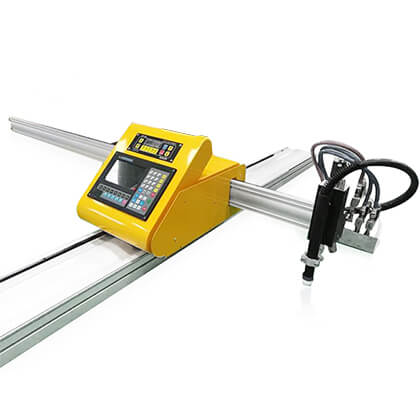 Advantages
The portable CNC plasma cutter for sale machine is suitable for indoor and outdoor cutting and can cut various metal materials according to any graphics. The roughness of the cut can reach 25, and the cut surface after cutting does not need to be surface processed. It has the advantages of the high degree of automation, convenient use, high precision, high reliability, low price, and easy operation and maintenance.
Internal Structure
The wiring of the whole machine is routed in accordance with the standard requirements, and all interfaces are set with accurate identification, which is convenient for maintenance.
The plug version is equipped with a 4-pin plasma interface.
Equipped with offline switch and emergency stop switch, it is convenient for the cutting gun to find the reference point, improve efficiency and ensure production safety.
The Meanings
This equipment is widely used in machine tool manufacturing, petrochemical equipment, light industrial machinery, shipbuilding, pressure vessels, engineering machinery, mining machinery, electric power, bridge construction, aerospace, steel structures, boilers, radiators, and other industries.
Conclusion
The iGP-P series portable CNC plasma cutter for sale, which is popular among professional users, is suitable for large sheet metal processors and users whose processing sites are not fixed.
>It is free to cut without the limitation of sheet size;
>A new generation of lifting body, increase the upper limit;
>Thickened and widened guide rail, wear-resistant without deformation;
>Easy to operate, quickly remove obstacles, which is conducive to learning;
>Supported by industry leader iGOLDENCNC.