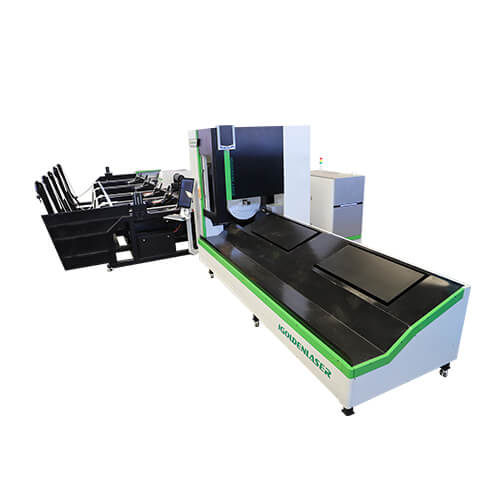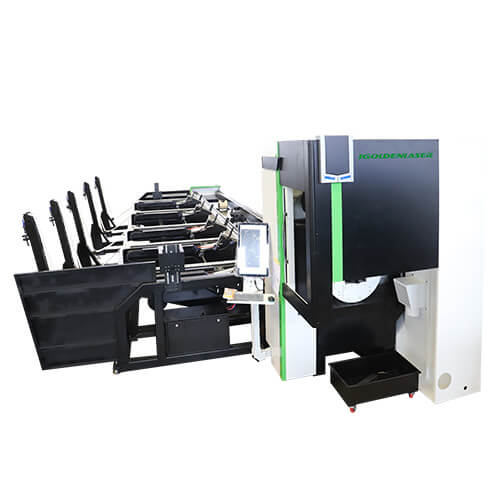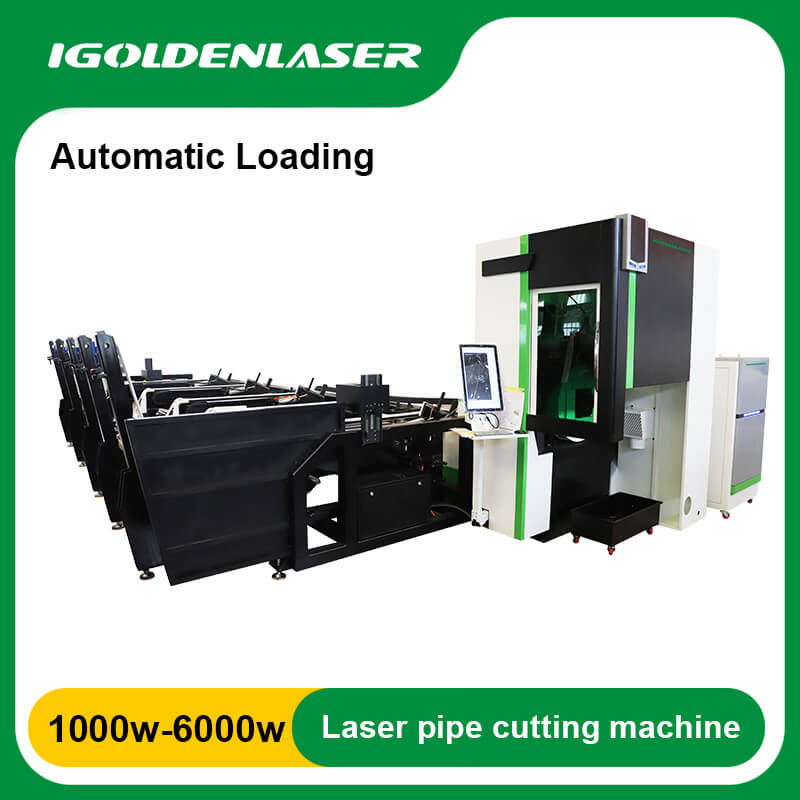 Metal Pipe Laser Cutting Machine with Automatic Feeding Device
Item No:iGR-T
Pipe laser cutting machine is a specialized type of laser cutting equipment designed specifically for cutting pipes and tubes with precision and accuracy. It utilizes laser technology to create clean, precise cuts on various types of metal pipes including round pipe, square pipe, rectangular pipe, oval pipe, OB-type pipe, C-type pipe, D-type pipe,triangle pipe, etc (standard); Angle steel, channel steel, H-shape steel, L-shape steel, etc (option).
Category: Laser Machine>>Laser Cutters
Response time: Within 1 hour
Supply Ability: 200 sets/month
Price Range: $4850-$163500
Description
Pipe Laser Cutting Machine
The fiber laser pipe cutting machine is designed to be a comprehensive CNC laser tube cutting machine solution. With a wide range of features and capabilities, this tube cutting laser system is designed to allow users a great degree of tube forming flexibility.
Laser pipe cutting machine can be used to cut all kinds of metal shapes such as round tubes, square tubes, and special-shaped tubes. The newly upgraded metal pipe laser cutting machine production equipment not only achieves automatic production and processing, but also improves the limitations of traditional laser cutting, saving time and effort, reducing costs, faster and more accurate, and can achieve pipe punching and cutting。
Suitable for a variety of pipe cutting, can cut round pipe, square pipe, rectangular pipe, hexagonal pipe, D-shaped pipe, other special-shaped pipe.
---

Automatic feeding device

Follow up support pneumatic chuck

Automatic feeding device

---
Automatic feeding device workflow
Pipe loading: lift bundles of pipe into the material stack, cut the binding rope, and wait for loading;

Power-on reset: start the power supply, each component start reset;

Tube suspender pulling tube loading: motor drives the suspender spindle, the suspender rolls up, pulls up the tube in the material stack and puts it on the chain conveyor;
Synchronous feed roller chain conveyor is driven by servo motor through precision reducer and synchronous shaft to transfer the pipe to the front end of the topper.
The ejector is driven synchronously by a servo motor. Good synchronization, can accurately separate a single pipe to transfer to the telescopic feeding arm.
The telescopic feeder is driven by the servo motor through the precision reducer and synchronous shaft, and sends the pipe to the target position of the laser pipe cutting machine.

The laser pipe cutter picks up the pipe and completes the cutting.
---
 Laser Tube Cutting Machine Parameters
| | |
| --- | --- |
| Model | IGR-T6024 |
| Chuck | Front and rear dual pneumatic chucks |
| Bed | Tube welded bed |
| Motor | Yaskawa Servo Motor |
| Reducer | SHIMPO Reducer |
| Rail | TaiWan HIWIN |
| Rack | T-WIN helical gear |
| Y-axis travel | ≈7m, applicable tube length ≤6m |
| X-axis travel | 240mm |
| Z-axis travel | 220mm |
| Support form | Pneumatic variable diameter wheel support |
| Rated travel speed | Y-axis about 40m/min, XZ-axis about 30m/min |
| Dimensions | 10700(L)×4200(W)×2600(H) |
| System | Cypcut Laser cutting system |
| Laser head | RayTools   |
| Laser | MAX / JPT |
| Operation console | Industrial computer + touch screen |
---
Laser Pipe Cutting Machines Application
Pipe laser cutting machines find applications in various industries such as automotive, aerospace, construction, and manufacturing. They are commonly used for fabricating pipes and tubes used in structural frameworks, exhaust systems, pipelines, and other components that require precise and clean cuts.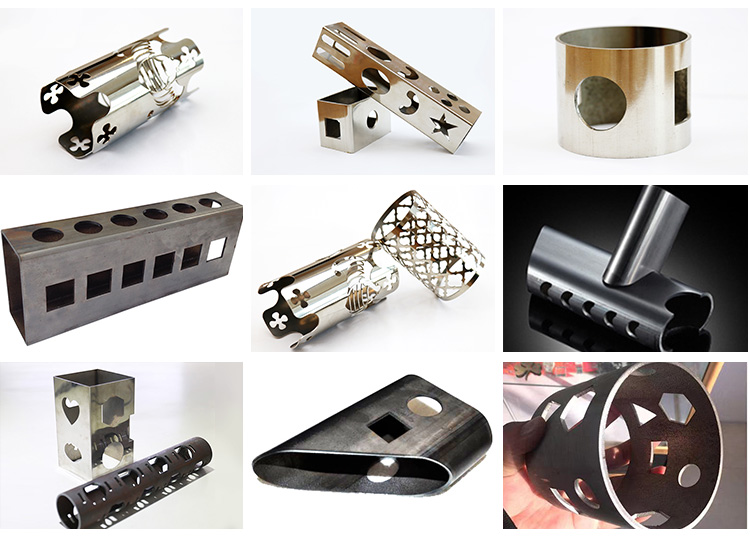 ---
Pipe Laser Cutting Machine
 iGR-T series pipe fiber laser cutting machine is a kind of laser cutting equipment, designed for cutting various types of metal pipes with high precision and high speed, optional automatic feeding device, save labor, improve efficiency, tail blind area is small, save materials, using pneumatic chuck + follow support, efficient and stable, double insurance.

Cutting speed is crucial, but the actual speed of the tubes laser cutting machine is relative. It's more about the time the laser cutting machine for tubes takes to process a line to meet specifications than the actual cutting speed on the box. Steel tube cutting machines from iGOLDEN laser are self-developed to enable high-speed, high-quality laser cutting of profiles such as circular, rectangular, and special-shaped tubes. The new metal pipe laser processing line with tube laser cutting machine in China not only achieves fully automatic production but also breaks through the limitations of plane cutting, achieving multi-dimensional cutting. In a word, the fiber laser steel tube cutting machine is the metal pipe laser cutting choice!

Automatic feeding device project and function introduction
According to the functional requirements, application scenarios and working environment of laser feeding, the feeding equipment of laser pipe cutting machine is designed and manufactured, and the automatic production unit of sheet metal is formed with laser pipe cutting machine. The automation unit has a good operating interface, and the connection mode is flexible, which is convenient for operators to use.
The cutting machine feeding equipment is a laser pipe cutting machine feeding equipment and laser pipe cutting machine integrated system, mainly to achieve a centralized storage of a kind of pipe, instead of manual automatic feeding for laser pipe cutting machine, can achieve small batch, multi-variety production needs.
Through PLC control, the whole process of automatic production such as automatic storage, automatic feeding and automatic feeding of a single pipe is realized, which can effectively guarantee product quality, improve production efficiency and reduce production costs. (Note: The material stack automatically lifts the pipe to the material delivery rack. If the overlapping cross pipe is placed on the material delivery rack, the equipment is equipped with a semi-automatic material stopper to ensure that one pipe is loaded each time; Depending on the processing conditions, there will be a small number of rectangular tubes for processing, so the hand-adjusted mechanical dumping device is added to facilitate loading).
Due to the large size range, a pipe whose length is longer than 4000mm is positioned at the rear, and a pipe whose length is shorter than 4000mm and longer than 2000mm(including 2000mm) is positioned at the front. The workers arrange the position of the whole bundle of pipes according to the positioning party.

In the past, fiber laser aluminum cutting could be used to cut thin materials. With the development of cutting technology, fiber laser processing machines can use the narrower beam to process thin materials, which allows for faster processing of different-sized materials on the same fiber laser cutting machine. iGOLDEN laser is one of China's leading CNC fiber laser cutting machine manufacturers.
---
Do you need a catalogue, price or machine working video?
Please let us know your name and email, we will send you more information asap