What is the best laser engraving machine ?
Tina
What is a CO2 Laser Machine?
CO2 Laser Cutter Engraving Machines are very popular amongst crafters, sign makers and other industries where processing materials such as leather, card, acrylic, plywood, cloth etc with high accuracy and complexity.
make custom logos on acrylic, wood, paper, metals, plastics, and an array of other materials.  As standard a CO2 Laser can only mark onto anodised, and coated metals, they will not cut.  You would need what we call a Metal/non-metal cutter that utilises oxygen as an assisting element to cut through thin metals.
A CO2 Laser uses a gas filled glass tube and a number of glass mirrors, to fire a focused laser beam through the tube and down through the laser cutting head.  Once here it exits the nozzle through the focus lens and hits the surface of your material.
The cutting depth and speeds are all controlled in our machines by software interface, in our case RD works.  A very easy to use editor for producing laser cut designs and to control all aspects of the machine.  From cutting speeds and powers to whether or not you want to raster engrave or just cut .
With a laser cutting machine you are able to produce a wide array of products from laser engraved gifts to unique laser cut products, without ever having to outsource any of the works.
Our own range of CO2 laser machines come in a wide variety of bed sizes and configurations from small desktop styled machines up to high capacity large format machines.
Flatbed CO2 Laser Cutter,Laser Engraver ,cutting materials include Paper, card, greyboard, acrylic, mylar, laser plywood, MDF, woods, engraving laminate, rubber, leather, fabrics.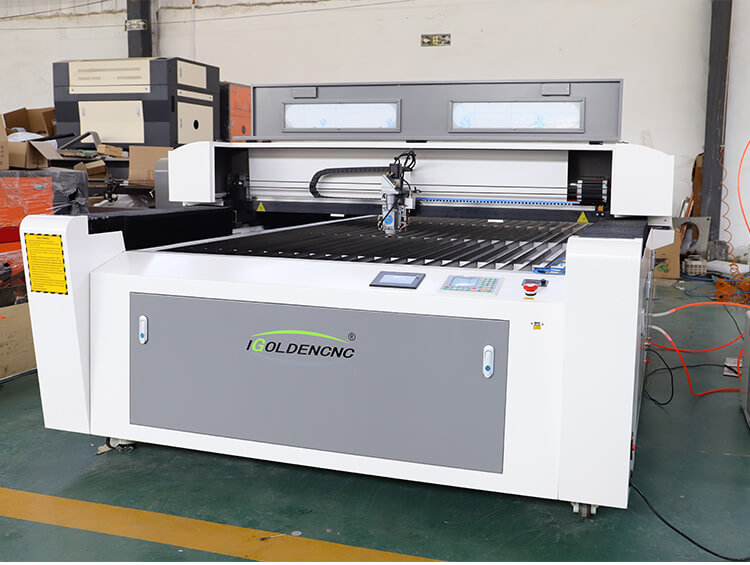 FLATBED CO2 LASER ENGRAVING MACHINE
Large Size CO2 laser cutting machine, the standard worktable size is 1300*2500, equip with 150w/180w/260w/300w laser tube, satified the engraving and cutting requirements of large plate such as S.S sheet, C.S sheet, wood sheet, acrylic sheet and so on.
The iGL-B flatbed laser cutter is ideal for large scale production needs such as sign makers and woodworkers. It is able to process materials which include acrylics, plywood's, and MDF.
The iGL-B laser cutter carries all the best functions like Hybrid servo motor and excellent engraving quality with high resolution etc.Users can also choose RF tube to reach an even higher cutting and engraving quality.And we also add much more user friendly designs to this excellent series.
Main Features:
3000 x 2000mm bed size
150W CO2
Maximum cutting thickness  20mm Acrylic
Recommended maximum  cutting thickness 12mm acrylic
Laser source    Water cooled CO2 gas filled glass tube
Motorised table height adjustment – Z axis (table height) adjustment
Red dot pointer system for easily and quickly lining up your work
Slatted non-reflective aluminium bar bed for supporting a wide range of materials and weights (honeycomb bed available upon request)
High quality optics provide high accuracy, reliability and long life
Air assist to control heat and disperse smoke and debris around cutting nozzle
Water flow switch to provide protection against failure of cooling system
Louvred cabinet ventilation slots ensure maximum enclosure safety
Safety switch prevents operation of machine with lid open
Drive system    Stepper motor
Location precision   <0.01mm
Typical design software    Adobe Illustrator,  AutoCAD, Corel Draw, 2D design
CO2 Laser Machines For Cutting & Engraving Supplier
iGOLDENCNC, as a professional laser machine application solution supplier, covers flatbed fiber laser cutting machine, metal sheet and tube fiber laser cutter, metal tube fiber laser cutter, protective fiber laser cutting machine, CO2 laser engraving cutting machine, fiber laser marking machine, CO2 laser marking machine, UV laser marking machine, handheld laser welding machine, handheld laser cleaning machine and so on.
As the top laser cutting machine manufacturer, the equipment from iGOLDENCNC is exported to more than 180 countries and regions around the world. Every day we accept and organize the opinions and feedback from customers from different countries and regions. We believe that this will help us further improve and optimize our products.
CO2 Laser Machines For Cutting & Engraving
Do you have a thought to buy a reliable Laser Engraver? Browse the 2020 new best laser engraver buyer's guide as follows, we'll provide you with the competitive laser engravers with expert customer service to satisfied your requirements.
Our Laser Cutting Machines come in a wide variety of bed sizes, a range of high power rated CO2 glass tubes to suit most requirements.  We have installed many laser machines into a huge range of areas such as sign makers, small craft manufacturers, schools & academies, universities, aerospace, automotive, personalised gift makers, fabricators and so much more.
Combined with competitive, affordable pricing, excellent performance and superb aftercare service, our Lasertech range of CO2 laser cutters are an excellent choice for any user.