Fiber Laser Tube Cutting Machine for Sale
Tina
The tube laser cutting machine is a laser cutting machine specially designed for tube cutting. It can cut round tubes, square tubes, oval tubes, rectangular tubes and irregular tubes. It is equipped with a special cutting operating system, which is simple to operate, high precision and professional. Strong, suitable for professional profile cutting, widely used in sports equipment, petroleum pipelines, chemical equipment and other industries.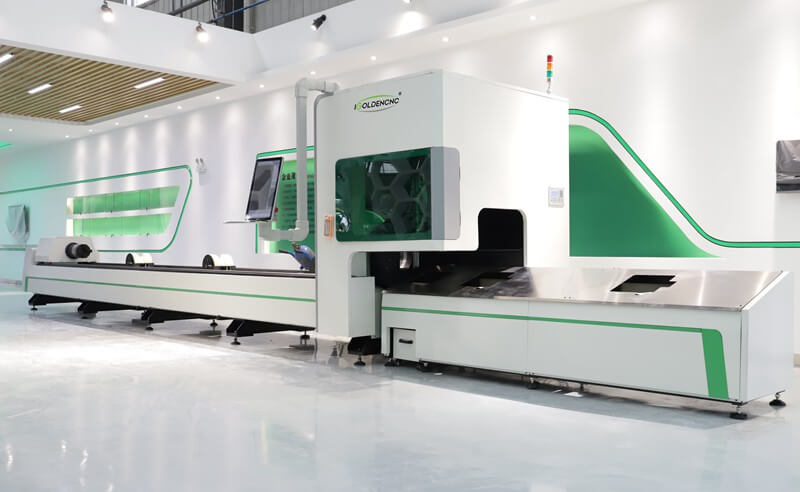 Tube Fiber Laser Cutting Machine It is suitable for cutting carbon steel, stainless steel, aluminum, brass and alloy metal materials. With diameters ranging from 12 to 610 millimeters and pipe and profile lengths up to 14 meters, our system solutions offer the largest available selection for the flexible production of small and large series.

Tube Fiber Laser Cutting Machine 2D and 3D processing
The ability to choose between 2D and 3D laser cutting technology opens up the possibility of individually customized and precise cutting of parts in a very wide variety: tubes with round, square, and rectangular shapes as well as profiles with diverse open cross-sections (for example H, L, T, and U cross-sections). In addition to straight cutting edges, the 3D technology also enables bevel cuts up to 45 degrees. This versatility eliminates the need for costly milling, drilling, punching, or sawing processes.

Tube Fiber Laser Cutting Machine Features
► Can cut lines and holes with different diameters from different directions on the pipe and meet centrifugal and non-contrifugal vertical intersection condition for branch and main pipe axis;
► Can cut column crossed lines at the end of branch pipe, and meet centrifugal and non-contrifugal vertical intersection confition for branch and main pipe axis;
► Can cut inclined section at the end section of the pipe;
► Can cut branch pipe intersected with the main circular pipe;
► To realize angel groove face,square hole,waist-shaped holes cutting.
Take the oil industry for example, the main route of oil transport is the pipeline, and because of the characteristics of the oil itself, leading to the high quality requirements of the pipeline. While fiber laser cutting machine can achieve the pipes multi-angle precision processing to fulfil the oil transportation requirement.
Tube laser cutting machine meets the parts processing requirements of most industries, working accuracy is stable. At present, laser cutting machines have been widely used in electronics, electrical, mechanical hardware, new energy lithium, packaging, solar, LED, automotive and other industries.

How Does A Metal Laser Cutting Machine Work?
The energy of the laser is concentrated into a high-density beam in the form of light. The laser beam is transmitted to the work surface, generating enough heat to melt the material, and the high-pressure gas coaxial with the beam directly removes the fused metal to achieve the purpose of metal cutting. This shows that laser metal cutting is essentially different from CNC machining.
A laser metal cutting machine uses the laser beam emitted from the laser generator to focus on the laser beam irradiation condition of high power density through the external circuit system. The laser heat is absorbed by the workpiece material and the workpiece temperature rises sharply. After reaching the boiling point, the material begins to vaporize and form holes, as the relative position of the beam and the workpiece moves, will eventually form a slit in the material.
The technological parameters (cutting speed, laser power, gas pressure, etc.) and movement trajectory during slitting are controlled by the CNC system, and the slag at the slit is blown off by the auxiliary gas with a certain pressure. During laser-cut metal, auxiliary gas suitable for the material to be cut is also added. When cutting steel, oxygen must be used as an auxiliary gas to produce an exothermic chemical reaction with the molten metal to oxidize the material, while helping to blow away the slag in the slit. For metal parts with high processing accuracy, nitrogen can be used as an auxiliary gas in the industry.
How Much Does A Metal Laser Cutter Cost? 
Once you have an idea to buy a cheap metal laser cutter, you may wonder how to get a fair price? According to different laser sources, laser powers, laser software, driving system, control system, spare parts, other hardwares and softwares, you will get a final metal laser cutter price range from $8,000.00 to $260,000.00. A fiber laser metal cutting machine cost is from $24,000.00 to $260,000.00. A CO2 laser metal cutting machine cost is from $8,000 to $20,000.00. If you want to buy overseas, the fee of tax, customs clearance and shipping costs should be included in the final price.
What Is A Metal Laser Cutter? 
Metal laser cutter is a type of CNC laser cutting machine for sheet metals, metal plates, metal profiles, metal tubes and metal pipes, which is the best metal cutting solution for metal fabricator. Metal laser cutters are available for 2D/3D metal cutting projects of stainless steel, galvanized steel, carbon steel, mild steel, cold rolled steel, hot rolled steel, copper, brass, alloy, iron, silver, gold, titanium, aluminum, bronze. Laser metal cutting machines are equipped with machine frame, laser power supply, laser generator, reflector path, laser cutting head, water chiller, control panel and CNC (Computer Numerical Control) system.
What Are Metal Laser Cutters Used For? 
Laser metal cutting machines are widely used in industrial manufacturing of metal fabrication, school education, small businesses, home business, small shop and home shop for sheet metal fabrication, aviation, spaceflight, electronics, electrical appliances, kitchenware, auto parts, subway parts, automobile, machinery, precision components, ships, metallurgical equipment, elevator, household appliances, metal signs, metal logos, metal tags, metal profiles, metal letters, metal words, metal arts, metal crafts, metal gifts, metal tool fabrication, metal foils, adornment, advertising and other metalworking industries.
Most organic and inorganic materials can be cut by laser. In the metal fabrication industry, which occupies a heavy weight in industrial manufacturing, many metal materials, regardless of their hardness, can be cut without deformation (using the most advanced laser metal cutter to cut the thickness of industrial steel is close to 20mm). Of course, for high-reflectivity materials such as gold, silver, copper and aluminum alloys, they are also good heat transfer conductors, so laser cutting is difficult or even impossible to cut (some difficult materials can be cut using pulsed laser beams, due to the extremely high peak power of the pulse wave, the absorption coefficient of the material to the beam will increase sharply instantly).
 Metal laser cutters are available for stainless steel, carbon steel, tool steel, galvanized steel, spring steel, alloy, iron, aluminum, copper, brass, silver, gold, titanium, nickel, manganese, cobalt, chromium, lead and other metals.