Flying Marking-Flying Laser Marking Machine
Thorpe
The Introduction of Flying Laser Marking Machine
Flying Laser Marking Machine TR-F20M adopts the third generation (the most advanced) solid-state fiber laser to create the super fine effect of marking. This model is compact structure, no pollution, no optical power coupling loss, air cooling, high efficiency and stability, its life is more than 100000 hours. Fiber Laser engraver output power:20W. The software is easy to use and can work with any content such as graphic,charters,letters,barcode,qrcode etc.It can widely used in various metal and some non-metallic surface to create the permanent mark.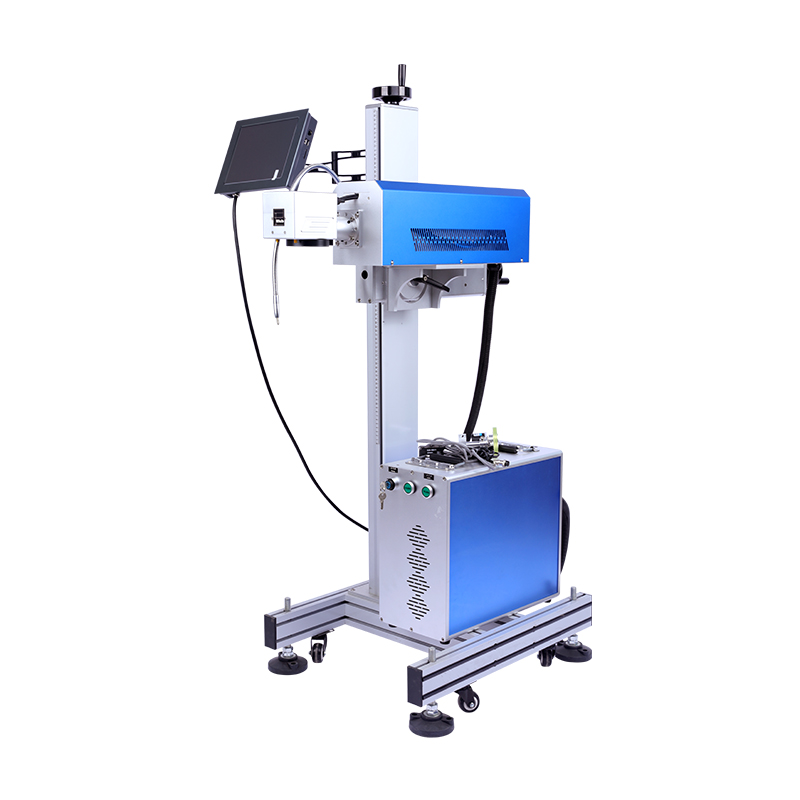 Flying Fiber Laser Marking Printing Machine General Introduction:
Flying Laser Marking Printing Machine 30W is laser marking printer especially matched for the automatic production line for flying printing & marking for the date codes or barcodes.
Compared to the traditional inkjet printer, Flying Laser marking printer has zero consumption of any materials, no need ink, no pollution, no noise, energy saving and environmental protective.
Flying Laser Marking Printer can be equipped with different kinds of laser sources (fiber, co2, or UV) and printer system. It can be widely used in food and beverage, pharmaceutical, tobacco, leather industry.
This is the 30W fiber source flying laser marking printer, it could be used for metal and nonmetal flying marking combined with various kinds of the production line. There is another co2 laser source online laser marking printer available especially for nonmetal materials' online marking.
Advantages
Compared to the traditional inkjet printer, the laser printer is low material consumption, no pollution, no noise, energy saving and environmental protection, simple operation, stable performance, long lifetime, low maintenance cost.The machine is available in flying marking in the production line for big quantity the same products.
1.Adopts the USA RF laser generator, high speed scanning vibrating lens and extending focusing system, high precision, high speed.
2.Red light positioning system,ensure accurate positioning,avoid waste.
3.Professional marking software owns strong graphics drawing and editing funcion,enable direct marking of color graphic or marking after color convert from RGB to grey scale.
4.It is popular with it's high precision, high speed, carving depth of random control. It can be applied to a variety of non-metal engraving. No consumables, Marking clear, not easy to wear and tear.
Application
The machine can be widely used in food and beverage,pharmaceutable, tobacco, leather, package, building materials, lighting, accessories, cosmetics, electronics,kitchen&bathroom hardware, shells of cell phone and watches, medical apparatus and instruments, tubular product, cable, plastic, cable and other industries.
Electronic and communication products, IC products, electric lines, cable computer components and electric appliance.Every kind of precision parts,hardware tools,instrument appliance,aviation and spaceflight appliance.Jewelry, garments, instruments, gifts, office devices, brand scutcheon, sanitary ware appliance.Dishware ,food ,drinking,smoking and alcohol,etc.