How much is a four-process cutting machine
Thorpe
Which brand of the four-process cutting machine is good, the use of the four-process cutting machine tutorial, the straight line of the cutting machine or the four-process is better, the price of the four-process CNC cutting machine, the configuration of the four-process numerical control cutting machine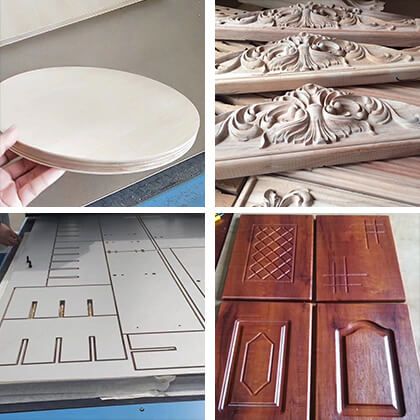 Jiabang CNC four-process cutting machine, comprehensive multi-functional equipment, cutting, punching, slotting, wardrobe door, wardrobe door, carving, four-process cutting machine is an economical panel furniture production equipment, saving time and effort , Computer programming with high blanking precision. The machine head is equipped with four spindle motors, one tool runs for cutting material, and two knives operate at the same time for perforating. When processing wardrobe doors, the tools are determined according to the specifications of the manufacturer's cutting tools. The spindle is pneumatically switched to complete the required hole position. The model of the tool used in the two operations of grooving and cutting is configured according to the specifications required by the manufacturer. The tool spindle is working, and the four-process cutting machine is working when cutting. The table has a very good adsorption and positioning function table, vacuum adsorption 7.5KM water-cooled air-cooled vacuum pump, empty line engraving speed +_20m/min, repeat positioning accuracy 0.05mm, total power 37kw, all equipment configuration: guide rail, slider, rack drive Operation, configuration place of origin in Taiwan, spindle motor Hanqi / Changsheng, power 6kw, servo motor Leisai (Yaskawa Japan), servo drive: (Japan Xinbao) Leisai drive, reducer: Taiwan Liming, all configurations of our company are We adopt the regular big factory brand and have good quality. Manufacturers who need four-process equipment can order our equipment according to the needs of the manufacturer. One machine is multi-purpose, which saves money and labor. Choose the comprehensive type of four-process cutting machine and choose Jiabang CNC. Welcome your arrival.
The scope of application of CNC cutting machine is mainly used in the furniture industry
Custom furniture, panel wardrobes, cabinets, shoe cabinets, etc., office furniture, cutting and engraving of cabinet doors. Production of screens, craft wooden doors and solid wood furniture. Cutting, engraving, hollowing and punching of paint-free wooden doors. Wood products industry: production of computer desks, conference tables, display cabinets, musical instruments, etc. Pet toy industry, cutting and carving of cat climbing frame.
Four-process cutting machine video Explosive CNC cutting machine (four-process cutting machine)
The body of the four-process cutting machine is welded with thick-walled square tubes and processed by giant gantry planing and milling. The vertical wall adopts an all-steel structure, which has higher stability;
The transmission guide rail of the cutting machine adopts csk Taiwan 30mm square guide rail, and the Y axis is driven by double servo motors, which runs more smoothly and has a larger cutting torque;
The Z axis adopts Taiwan TBI original large pitch precision grinding ball screw, and the transmission processing precision is high;
The main shaft of the CNC cutting machine adopts a high-power air-cooled main shaft, and the CNC automatic oil supply system makes the machine more convenient to maintain and has a longer service life. Processing Equipment;
Control system, optional Taiwan Baoyuan system or Shanghai Weihong industrial control system
The scope of application of the four-process CNC cutting machine:
> Production and processing of various furniture: cabinets, wardrobes, office furniture, computer desks, children's furniture, panel furniture, cutting, slotting and perforating, decorative hollow frames, production of soft bag backdrops, etc.;
>Wooden door and furniture decoration industry: solid wood composite door, cabinet door, large area panel carving, solid wood, panel furniture carving, solid wood art mural, etc.;
> Processing of wood products: clocks, electronic countertops, sporting goods and equipment;
> Musical instrument industry: three-dimensional surfaces and shape cutting of engraving musical instruments;
> Arts and crafts industry: photo frames, jewelry boxes.