Laser Wood Cutting Machine for sale
Tina
CO2 laser engraving machine, can shape and cut various non-metallic, such as acrylic acid, two-color plates, marble, wood, MDF, plywood, textile, leather, glass, paper, etc. , Clothes, furniture and other industries. Quick engraving and cutting speed, high precision. You can configure the upper and lower rendering stations, honeycomt tables, rotation, and the like.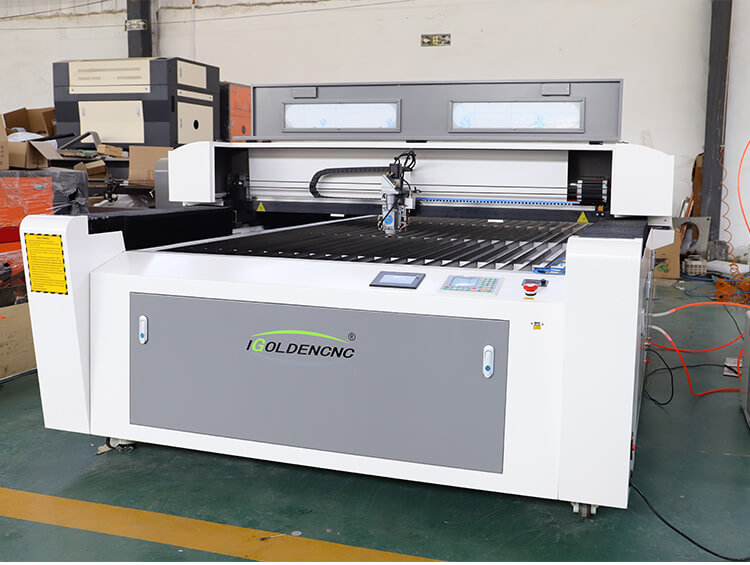 Wood Engraving Machine CO2 laser cutting machine, the standard worktable size is 1300*2500, equip with 150w/180w/260w/300w laser tube, satified the engraving and cutting requirements of large plate such as S.S sheet, C.S sheet, wood sheet, acrylic sheet and so on.

How is a Laser Engraver used?
CO2 laser engraving machine is widely used in a variety of non-metallic materials, such as acrylic, leather, cloth, paper, bamboo products, wood products, resin, rubber, etc. The mixed cutting machine can also be used for cutting and engraving thin metal sheets. Popular applications include:

1. Printing and packaging industry: rubber plate laser engraving, paper products laser cutting, knife template engraving, etc.
2. Craft gift industry: crystal carving, bamboo slips, bamboo mats, bamboo curtain laser hot stamping, ivory, bone, shell carving, woodblock book laser carving, mahogany laser carving, box-shaped crafts laser carving, chessboard laser carving, etc.
3. Advertising and publicity industry: large-scale blister cutting, plexiglass laser engraving (cutting), laser production of various plaques, crystal, trophy engraving, two-color plate laser engraving (cutting), metal sheet cutting.

4. Leather garment industry: cutting of all kinds of shoe materials, fur, real leather, artificial leather and surface pattern carving, cutting, hollowing; pattern cutting of all kinds of clothing, fabrics and textiles, etc.
5. Model making industry: sand table building model laser engraving (cutting) production; aviation, navigation, model laser engraving (cutting) production; cartoon character model laser engraving (cutting) production; industrial sample model laser engraving (cutting) production, etc.
6. Other industries: engraving marks on decorative materials such as marble, granite, glass, crystal, paper cutting, greeting cards and other paper craft cutting.

Main configuration of the Laser Wood Cutting Machine:
1. Worksheet: Aluminum knife work to handle hard materials such as acrylic, wood, etc.
2. Laser head: The air tube is installed therein. This does not contact the lens so dust. Blowing can cool the lens and cool the surface of the material. Red light positioning function (optional).
3. Taiwan Hiwin Guide Guide: Special linear guide rails are well stable, long service life, high noise, high precision.
4. Shanghai Futong belt: Fulong brand, wear resistance, good stability, compact structure, low noise. 5. Stepper motor: strong power, reliable performance, safe and secure, ensure that the machine is operating normally.
6. Reci W2 90W Laser Tube: 1) RECI laser tube power selection, fiber beam, high quality. 2) Closed CO2 laser tube, long life and stable power. The inside of the steel bars, the laser tube is not easy to collide, and it will cause damage when moving the machine. (EFR, RECI, CDWJ, Yong LL, optional)
7. Three mirrors and a lens: Singapore: 1) 45 °mirror adjustment set. Three-point dimming bolts for easy dimming. 2) Imported lens, suitable for lightweight virtual environments, high precision, high speed.
8. Ruida Control Pannel: Shenzhen Road Company's control system does not need to encrypt the dog. English Control Panel is convenient and re-engraving after breakpoint or power failure. The Ruida Control system supports the USB cable controlled by Computerand and controls the offline control system only via the U disk.