Multi-spindle 3d 4 Axis Rotary CNC Wood Router
Thorpe
The multi-spindle 3d 4-axis rotary CNC wood router is specially designed to meet the processing needs of 3D product size. This kind of CNC router machine can be determined according to the material to be processed, and it can also realize 3D multi-processing by equipping a common CNC machine with a rotating axis. The 8-head CNC router has various specifications to meet the needs of different customers.
3D CNC wood router machine is specially designed and developed for the three-dimensional cylindrical batch engraving process. Multi-spindle can be processed at the same time. It is a high-efficiency machine. It is mainly used in furniture manufacturing, gift manufacturing and crafts industries 360 ° carving.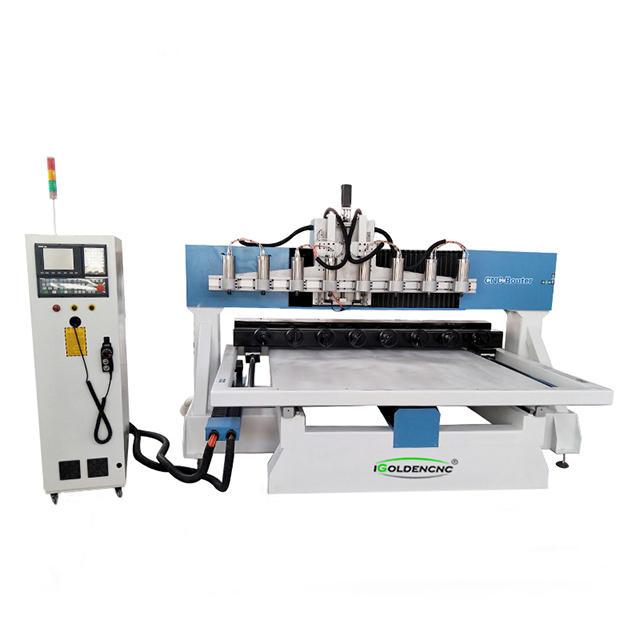 Features of Multi Spindle 3D CNC Router:
Multiple heads can work at the same time to improve the engraving efficiency of the same design.
The number of heads and working area can be changed according to customer requirements.
Four rotating heads and four heads can work simultaneously or independently.
Rotating device:
The rotating device includes a fixed body and a shaft. As the 4th axis of a CNC milling machine, it can replace the X or Y axis for column processing, such as chair side panels, stair side panels, Roman columns, and columns.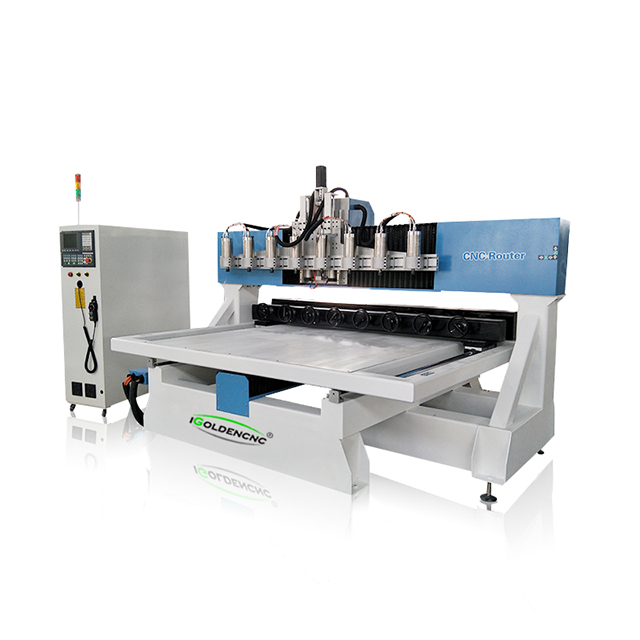 Control cabinet:
European IEC standard wiring, CE standard electrical equipment, and single-layer cable connection. All electrical components have been put in. If repairs are required, the overall wiring layout is marked, and customers can easily browse the cabinet.
Manual Lubrication
CNC wood router machine Spindle and Rotary
Spindle and Rotary
CNC wood router machine Yako-driver
Yako Driver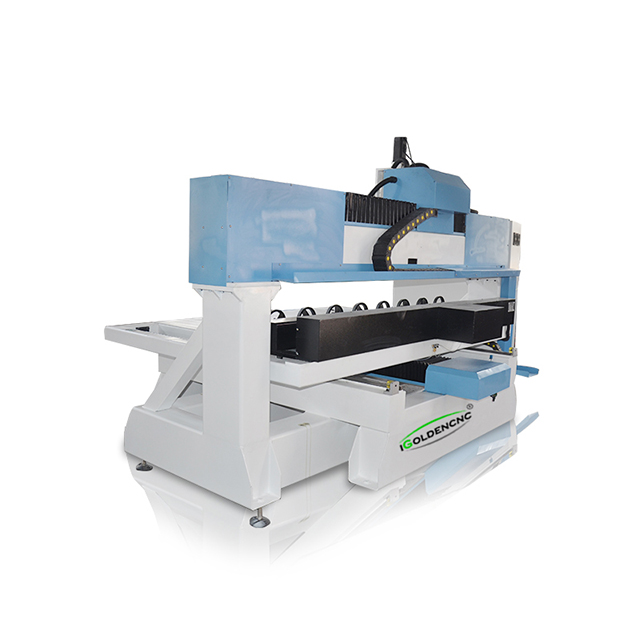 Applications of CNC Router:
Three-dimensional 3D technology, furniture three-dimensional feet, and cylinders, human bodies, Buddha, goddess of mercy, sculptures, handicrafts, staircase handrails, musical instruments. The 3D CNC engraving machine can perform 3D processing on stone, wood, and jade, realize size carving, and meet the needs of furniture and gift production.
CNC 4-axis router machine is suitable for engraving and cutting cylindrical and flat materials. In addition to the side position of the rotating device, you can also install a smaller size rotating device on the workbench for column engraving. This function can be used in the stair parts industry, such as turning and box-shaped new columns, corbels, armrests, chair door frames, etc.
Suitable Materials:
Wood: Solid wood, MDF, Plywood, Chipboard.
Plastic: PVC, ABS, Acrylic, Plastic.
Marble: Artificial Stone, Marble, Granite, Ceramic,
Sign Material: Foam, Cupboard, Styrofoam, Leather, Plastic carpet, corrugated paper,
Metal: Steel, Metal, Stainless, Pipe, tube, Corrugated metals, expanded metal, or flat sheet stock.
Soft Metal: Aluminum, Brass,
Composite: Aluminum Composite, Copper Composite, Titanium Composite, Zinc Composite.