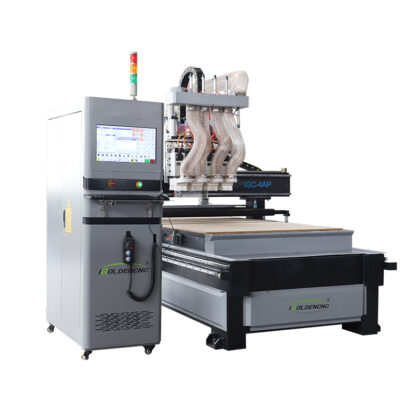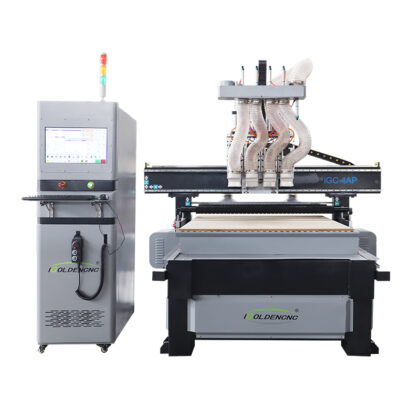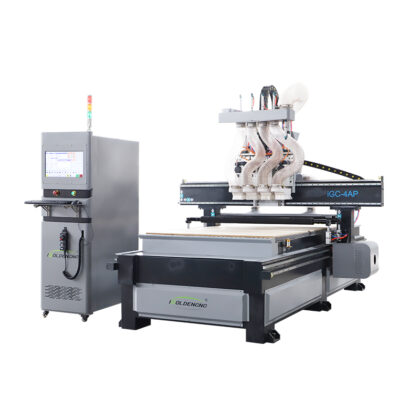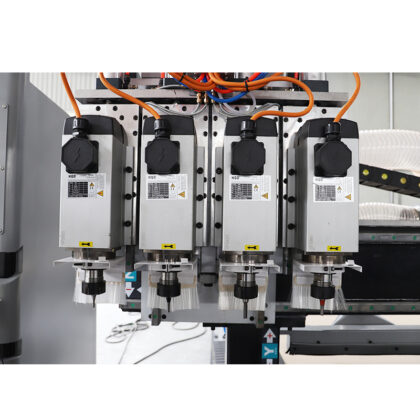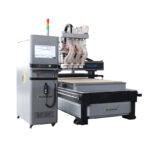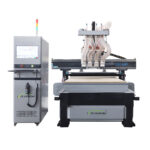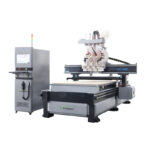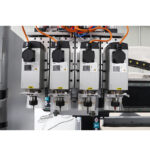 CNC Four Process Wood Cutting Machine,Woodworking 4 process cutting machine
Item No.: iGC-4AP
iGC-4AP wood CNC router machine is mainly used for wood door making, cabinet making, sign making, furniture making, decoration making and other popular woodworking. Now the best 4×8 wood CNC machine for sale at an affordable price.
Category: Furniture CNC Machine>>Cabinet Maker
Response time: Within 1 hour
Supply Ability: 300 sets/month
Price Range: $13030-$15030
Description
Who is it for?
The most popular multifunctional ATC CNC router machine designed by iGOLDENCNC, suitable for a variety of complex product processing or diverse processing. It can automatically change tools during work and provides a set of competitive configurations. Popular applications include:
>Production and processing of various types of furniture: cabinets, wardrobes, office furniture, computer tables, children's furniture, panel furniture, cutting and cutting, slotting and perforating, decoration hollow frames, soft bag background wall production, etc;
>Wooden door and furniture decoration industry: solid wood and composite door, cabinet door, large-area plate carving, solid wood, panel furniture carving, solid wood art mural carving, etc .;
>Wood products processing: clocks, electrical countertops, sporting goods and equipment;
>Musical instrument industry: three-dimensional curved surface and shape cutting of sculptable musical instruments;
>Crafts industry: photo frames, jewelry boxes.
What makes it unique?
The iGC-4AP series ATC CNC router machine is very popular in the cabinet manufacturer and door manufacturer. It improves the efficiency of wood processing. It is specially designed for cabinet doors and panel furniture production lines.
>Save labour, save raw materials, save time;
>Fully-automated processing procedures to improve accuracy and efficiency;
>Heavy industry quality, stable operation for 10 years;
>Easy to operate, quick obstacle removal, conducive to learning;
>Supported by industry leader iGOLDENCNC.
Applications of ATC CNC Router Machine
1.Furniture: wooden doors, cabinets, plate, office and wood furniture, tables, chair, doors and windows.
2.Wood products: voice box, game cabinets, computer tables, sewing machines table, instruments.
3.Plate processing: insulation part, plastic chemical components, PCB, inner body of car, bowling tracks, stairs, anti bate board, epoxy resin, ABS, PP, PE and other carbon mixed compounds.
4.Decorate industry: Acrylic, PVC, MDF, artificial stone, organic glass, plastic and soft metals such as copper, aluminum plate engraving and milling process.

Wooden Door Making

Wooden Bed Processing

Wood Slotting

Wood Hollowing

Soft Wall Processing

Office Furniture Making

Kitchen Cabinet Making

Customized Closet Making
| | |
| --- | --- |
| Machine stroke | 1300mm *2500mm |
| X axis travel | 1300mm |
| Y axis travel | 2500mm |
| Z axis travel | 200mm |
| File format | G code |
| Workbench structure | A-grade hard special vacuum adsorption table + Pressure roller |
| Operating Voltage | 380V/50HZ |
| Bed frame | Heavy-duty stable bed |
| Spindle | HQD 6KW air-cooled tool change spindle*2 + 4.5KW *2 |
| Drive System | Servo motor drive |
| Control System | Taiwan LNC + wireless handwheel |
| Rack | Taiwan high precision rack |
| Guide | Taiwan HIWIN+Original Slider |
| Lead screw | Taiwan  screw |
| Inverter | FULING |
| Cabinet | Independent cabinet |
| Dust collection system | Floating dust collection + central dust collection structure |
Features of ATC CNC Router Machine
High-precision Transmission System
The positioning accuracy of the machine is 0.02mm, the maximum running speed is 50,000mm/min, and machine working life up to 10 years.
Options of ATC CNC Router Machine
All machine parts adopt high configurations, higher working efficiency. It's change the tools by automatic, no need change by hand, save time and manpower.
Our this type ATC machine support many tools, each tool have different functions, can engrave, cut, polish, make different shapes and patterns on sheet.
We set up a special QUALITY CONTROL DEPARTMENT inside of the factory. Therefore there is a strict control for each process, and we have regulated the standards for welding process, machining process, assembly process, manufacturing process and packaging process, etc.
Yes, we can add the oil misting system for you, it can used to cool the cutting bits and materials.
We will send the manual with machine together to you, we also will take full operate video to you to help you use machine well.
Do you need a catalogue, price or machine working video?
Please let us know your name and email, we will send you more information asap
A woodworking 4 process cutting machine is a type of machine used for cutting and processing wood. It typically includes four different cutting processes, such as sawing, drilling, milling, and routing. This type of machine is commonly used in woodworking shops, furniture factories, and other woodworking industries.
The sawing process is used to cut large pieces of wood into smaller, more manageable sizes. The drilling process is used to create holes in the wood for dowels or other fittings. The milling process is used to shape the wood into more complex shapes, such as curves or angles. The routing process is used to create decorative edges or designs on the wood.
A woodworking 4 process cutting machine can be either manually operated or computer-controlled, depending on the complexity of the cutting processes and the desired level of precision. Computer-controlled machines typically use CAD/CAM software to program the cutting paths and automate the cutting processes. When shopping for a  4 process woodworking cutting machine, it's important to consider factors such as cutting capacity, cutting accuracy, control system, and price. Additionally, it's important to ensure that the machine is well-maintained and supported by the manufacturer or supplier.