Woodworking ATC CNC Router with Automatic Tool Changer
Thorpe
A woodworking ATC CNC router with automatic tool changer is a computer-controlled cutting machine that is specifically designed for woodworking applications. It features an automatic tool changer system that allows for the fast and efficient changing of cutting tools during the machining process.
The machine is programmed using CAD/CAM software, which generates the tool paths and cutting instructions for the machine. The automatic tool changer can hold multiple cutting tools, which are selected and changed automatically by the machine during the machining process, based on the programmed tool paths and instructions.
What is the 3 Axis ATC CNC Router?
The 3 Axis ATC CNC Router machine is suitable for various complex products processing. According to the needs of different production processes, customers are equipped with 6, 8, 10 and 12 bits. Their are two kinds of tool changing modes: straight line change tool and disc tool changer. Widely used in plate carving, milling, chamfering, side milling, drilling, cutting, slotting and so on.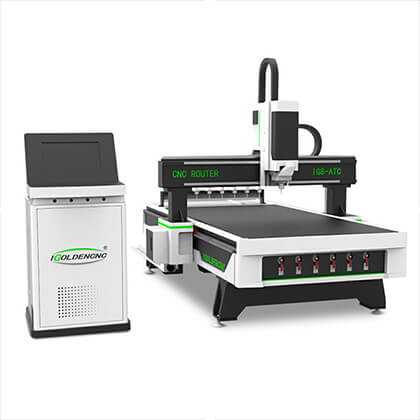 What is the ATC CNC Router?
ATC CNC router has two types of tool magazines: linear and carousel. Both of them can be installed beside the spindle or on the side of the machine bed. By changing different tools automatically, the ATC CNC machine can complete multiple and complex processes at one operation. It can realize cutting, engraving, drilling, routing, grooving, and pocketing of wood, MDF, acrylic, PVC, plastic, foam, and other materials.
INDUSTRIES ATC CNC router has an independent tool magazine of linear type or carousel type. It can change the required tools automatically during the machining process without suspending the work. The ATC CNC router has a wide range of applications in furniture, advertising, mold, decoration, construction and other fields and industries. In terms of functions, it can cut, engrave, drill, mill and groove. In regard to materials, ATC CNC router can process various wood materials, plastics, stone, soft metals and composites.
MATERIAL
Wood: natural wood, plywood, soft wood, hard wood, fiberboard, particle board, melamine board, LDF, MDF, chipboard
Plastic and rubber: acrylic, ABS, HDPE, PVC, LDPE, UHMW, resin, double-colored board, PP, EVA
Stone: granite, marble, slate, basalt, pebbles, ceramic, porcelain, natural and artificial stones
Soft metal: aluminum, brass, copper, mild steel
Composite: aluminum plastic composite, copper composite, titanium composite, zinc composite
Applications
3 axis CNC machining center with ATC system is widely applied in industrial board cutting, mould manufacturing & processing, wooden products processing, building decorating & furnishing, stone, glass, copper, aluminum and advertising products processing, etc.
Woodworking Industry:Ideally suitable for furniture decoration, musical instruments, wooden crafts, solid wood furniture, MDF paint-free door, wood composite door, cabinet, kitchen doors, windows, night table, etc.
Decoration industry:Art model, Wall Art, screen relief engraving and cutting, decoration processing, gifts wrapping, waved plate, electrical cabinets panels, sports equipment, and other wooden industrial products.