What is the Difference Between CNC Router 3 axis, 4 axis
Tina
What can a 3 axis CNC machine do?
The 3 Axis CNC Router has limitations of the working direction and as such, it only can realize the plane engraving. The 3 axis engraving machine has only three working directions as X, Y, and Z-axis. Achieving complicated hollowing out and 3D engraving is not possible. These three-axis machines can meet your machining requirements if you want to achieve simple flat machining in advertising, wooden furniture, and other industry. Examples of what is achievable include shoe polishers, cabinet doors, mahjong tables, solid wood doors, craft doors, panel furniture products' auxiliary processing, paint-free doors, screens, craft window processing, game cabinets and panels, three-dimensional wave board processing and computer tables.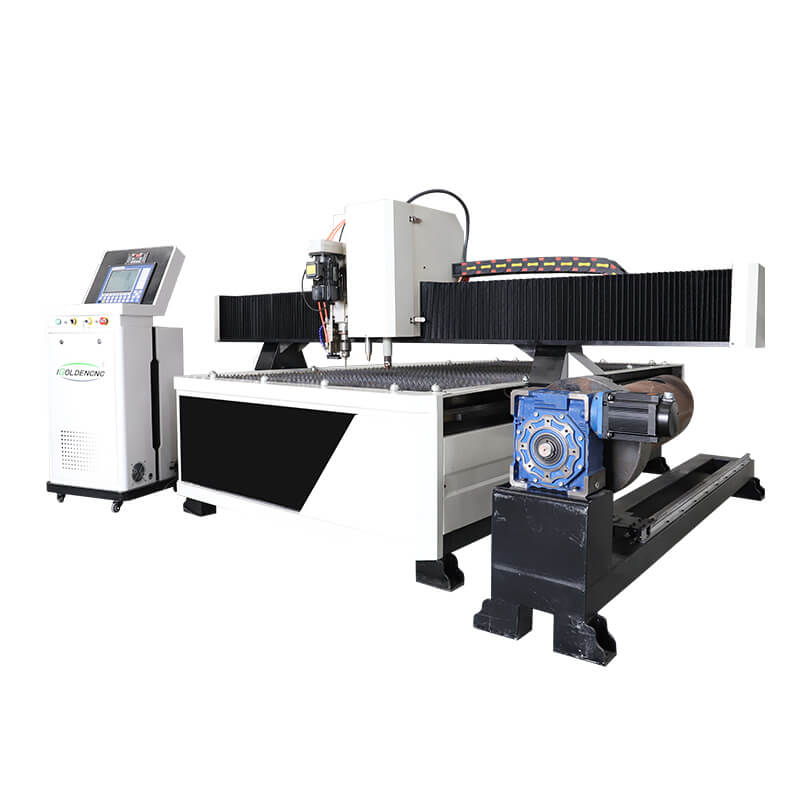 What can a 4 axis CNC machine do?
4 axis engraving machine has four processing directions of A, X, Y, and Z-axis. It includes both a three-dimensional CNC router and a rotary CNC router. The four-axis engraving machine can realize the processing of three-dimensional workpieces such as Buddha statue, Dragon pillar column, Roman column, Guanyin statue, gourd and so on, and other cylindrical workpieces like Corel, chair leg, turned and box newel posts, handrail, door, and window frame based on the plane engraving machine.

The differences of 3 Axis & 4 Axis CNC Router in Configurations
Machine bed: The bed of the 4-axis engraving machine is thicker, which ensures the machine is more stable at high speed and also ensures the accuracy of the machine, compared with that of a 3-axis engraving machine. This ensures that the service life of the machine is extended accordingly.
Motor: Three-axis CNC router can choose between stepper motors and servo motors depending on the customer requirements. But this does not apply to 4-axis CNC router which is recommended to choose servo motors above 850 watts, and they must be equipped with a reducer. The greater the motor power, the greater the torque provided with the accuracy of the machine better guaranteed.
Guide rail: The recommended guide rail for the four-axis engraving machine is 25 mm or more. But the commonly used guide rail sizes are 20mm, 25mm, 30mm. Rails of these sizes have a strong carrying capacity, which not only helps to increase the processing efficiency but also increases the speed of the machine accordingly. Control system: The four-axis machine is to choose the control system with faster processing speed and higher control precision such as Syntec, Baoyuan, Siemens. While the conventional 3-axis engraving machine chooses Mach3, DSP, and NK105. Cooling method: The three-axis engraving machine generally adopts manual spray cooling, and a four-axis engraving machine uses automatic oil mist/water spray cooling to facilitate the processing of stone metals.

What is 3 Axis/ 4 Axis CNC router?
3 axis CNC router
The entry-level engraving machine for the engraving machine industry that is what 3 axis CNC router is. It performs intelligent cutting, milling, engraving, drilling, and grooving functions in different materials by moving a tool bit on the three-axis. As a basic machine, an upgrade to other machines like multi-process CNC router,multi-head CNC router, and other CNC machines is vital.
4 Axis CNC router
4 axis CNC router generally can be divided into a 4th axis CNC router and rotary axis CNC router. Comparing the 4 Axis CNC router to the 3 axis CNC router, the 4th axis engraving machine is special in its spindle which can swing 180 degrees in both positions – left and right. The 4 axis CNC router can realize plane processing and also make work possible on both sides. It does some surface processing of 3D workpieces. Another 4 axis CNC router is also called a rotary axis CNC router. Compared with the 3 axis CNC router, this type of CNC machine includes adding a rotary device to the 3 axis CNC router. The rotary device majorly realizes the machining of cylindrical workpieces. It should be noted that the rotary device can be placed in any position you want to either in the X-axis direction or the Y-axis direction of the machine. Similarly, the rotary device can not only be placed on the machine but also function independently of the machine. It is easier to operate, transport, and maintain. Therefore this type 4 axis CNC router can realize processing cylindrical workpieces and the plain engraving.