ATC 1325 CNC Router Wood Cutting Machine
Glover
4×8 China ATC 1325 CNC Router affordable has a linear tool changer magazine. While the machine also can be made with a carousel tool changer, it holds more than 8 tools, saves more time. The rotary device, which is distinct from the 3 axis CNC Router. And it's length and dimension can be customized according to your actual needs.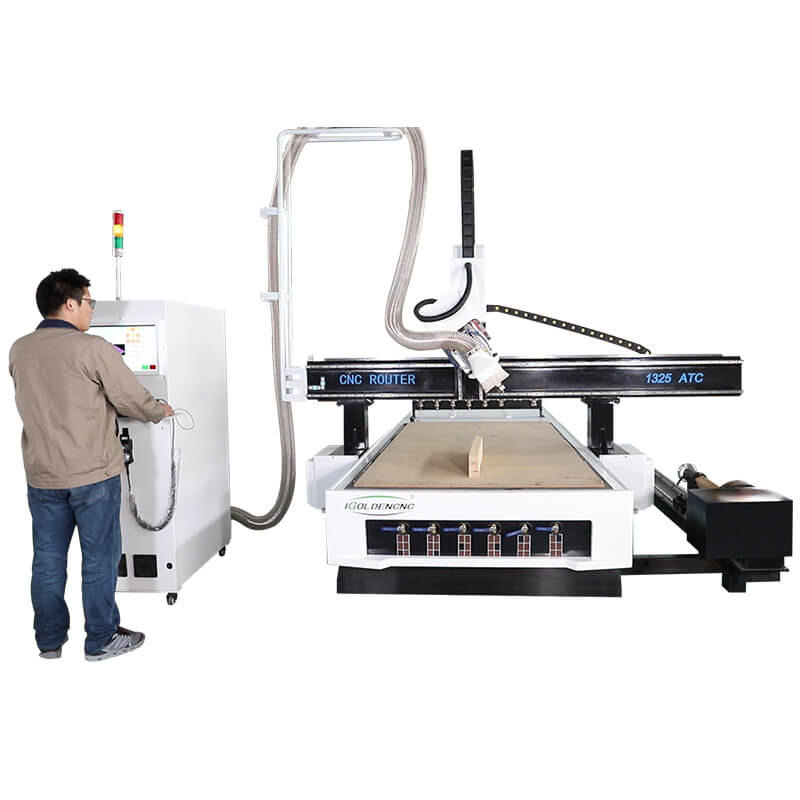 Another feature of the atc 1325 cnc router is the use of aluminum T-slots and a vacuum combined worktable. This CNC router table top can hold a wider range of materials, even hollow type boards, or very thin and very light wood boards, can be firmly fixed on the table. The wood board will not vibrate due to high-speed processing, ensuring high-precision engraving.
The advantages of the atc 1325 cnc router machine make it widely used in the woodworking field, and it can complete many woodworking project plans. For example, solid wood tables and chairs, composite doors, screens, wardrobes, bedside tables, solid wood handicrafts, office furniture, etc.
Atc 1325 CNC Router Features:
With 9kw air-cooled spindle, the spindle speed is fast, make machine working with high precision and long time service and stable movement.
The ATC CNC Router is equipped with a separate control cabinet, more convenient in terms of operation and maintenance;
Vacuum working table, match one vacuum pump, can fix the material more stable.
Linear Automatic Tool Changer 6Tools moving with beams, high efficiency and low cost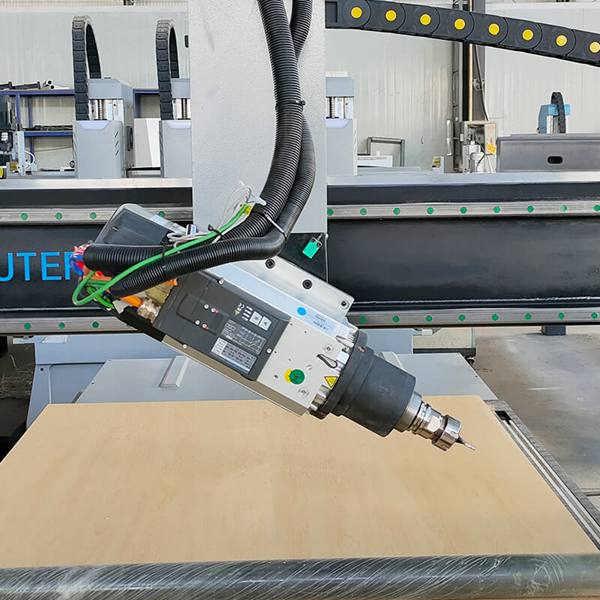 Application of wood cutting machine:
1. Woodworking industry:wood crafts,picture frames cutting,handicraft carving wave plates,wooden door production and processing.
2. Advertising industry:advertising materials such as PVC,acrylic,double color plate.
3. Stone working industry:such as natural marble,granite,artificial stone,tombstones,milepost,ceramic tile,glass and other materials.
4. Metal industry:carving aluminum,copper,stainless steel and so on.
ATC 1325 cnc router is a series of equipment and technological process for the production of panel furniture. In recent years, as different users have higher and higher requirements for personalized furniture production, the number of people who customize furniture through such a production line is also showing an increasing trend.