ATC Wood CNC Router Machine Exported to Australia
Thorpe
ATC Wood CNC Router Machine designed and fabricated by IGOLDEN is the widely used CNC router for wood engraving and cutting works.This ATC Wood CNC Router Machine is specially engineered for wood door,cabinet,furniture industry,advertising industry.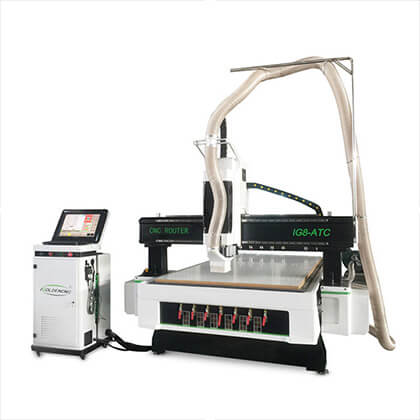 This ATC Wood CNC Router Machine consists of a spindle and a disc tool magazine.Generally,12 tool changers are standard.The ATC Wood CNC Router Machine can be processed,whether it is processing door shapes,engraving patterns,hollow lattices,and cutting grooves.Moreover,the automatic tool change speed is fast,and there is no need to change the tool back and forth.It is greatly improves the production efficiency and reduces the labor cost.And also ensure the engraving accuracy.

The ATC Wood CNC Router Machine all the axis fabricated with linear rail transmission,The main configuration 9.0kw China HQD air cooling spindle and Taiwan LNC controller system.Equipped with TAIWAN TBI linear bearing guide and famous brand high quality spare parts which has the characteristics of high precision,high speed, smooth operation and longer service life.
The drawing software of ATC Wood Cnc Router Machine is compatible with JDpaint, Artcam,and other CAD/CAM design software with win7 32sit system.This ATC Wood CNC Router Machine also made with cast steel heavy table to keep the table stable and indirect maintenance of the equipment.
Our client is from Australia would like to make wooden and other furniture.He visited us at Shanghai Industrial exhibition.We showed him the operations of how to run the ATC Wood Cnc Router Machine.After introducing the function of wood door carving machine,what main reason ask he Hesitate is that he worried about the after-service.So he planned to visit our factory to check the output every month.We drove him back to our CNC wood router plant after the exhibition.What we do show our professional and cnc major Clear up customers' doubts.he decided to order ATC woodworking cnc router timely at factory.
IGOLDEN CNC is the leading ATC CNC Router designer, manufacturer and exporter since 2003.We have over 400 professional staffs and over 86,000 square meters factory.Our high quality innovative products include ATC CNC routers,CNC engraving machines and CNC carving machines, etc. OEM and ODM are available. Our annual CNC machine output is over 12,000 sets,which had been exported to over 136 countries.If you have any questions or inquiries,please fill in and submit the following form,we will reply as soon as possible.