Best 4 Axis 3D Cnc Router in 2021
Thorpe
What is the 4 Axis 3D Cnc Router?
The best 4 Axis 3D Cnc Router is specially designed and developed for the three-dimensional cylindrical batch engraving process. Multi-spindle can be processed at the same time. It is a high-efficiency machine. It is mainly used in furniture manufacturing, gift manufacturing and crafts industries 360 ° carving.
3D CNC router machine for woodworking with 4th axis rotary table and 8 heads is designed for rotary wood carving, 3D relief carving with cylinder sculptures, wood crafts & arts, table legs, wood spindles, stair balusters, roman columns. The 3D CNC wood router can make 8 same projects at one time.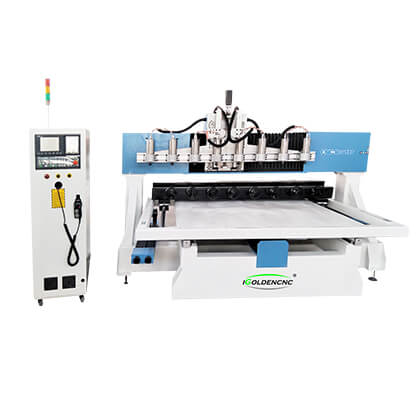 Feature
This 4 axis cnc router with T-type heavy duty  body with more solid structure and strong stability because of low center of gravity.
Vacuum table can fix materials of different sizes effectively and reach high speed.
Aiwan imported rolling balls screws, HIWIN square guide rails, high precision, large load bearing and stable running.
Gantry-travelling, sturdy, reliable and stable, non-deforming, high locating accuracy.
Y axis use dual motor drive, select matching to ensure smooth movement.
NK105 control system, with U disk available and not need computer ( can be completely off-line operation.), provides high independence and great convenience for operation.
Unique ability to save several point of origin on several workpieces.
No engraving saw-tooth, smooth undersurface, legible contour, by high-power spindle.
Auto seeking original point system, a good way to improve the working effeciency.
Large compatibility of drawing software, such as Type3, artcam and some other CAD or CAM.
Application
Woodworking: wooden door and furniture, windows, tables and chairs, cabinets and panels, 3D wave plate,MDF,computer desk,musical instruments,etc.
Advertising: billboard, logo,sign,3D characters cutting, acrylic cutting, LED/neon channel, literal-hole cut,lightbox mold, stamp, mould.
Die industry: copper sculpture, aluminum engrave, metal molds, plastic sheeting, PVC , etc.
Decoration: acrylic, density board, artificial stone, organic glass, soft metals like luminum and copper, etc.