Foam Cutting Machine for sale IGOLDENCNC
Thorpe
What Foam Cutting Machine applicable for?
Foam Cutting Machine is applicable for polyvinyl chloride foam(EPS), polypropylene plastic foam material(EPP), XPS Extrusion board. Mainly for the industry: foundry industry, advertising industry, film and television props, packaging industry, EPS construction lines, and other industry-specific equipment.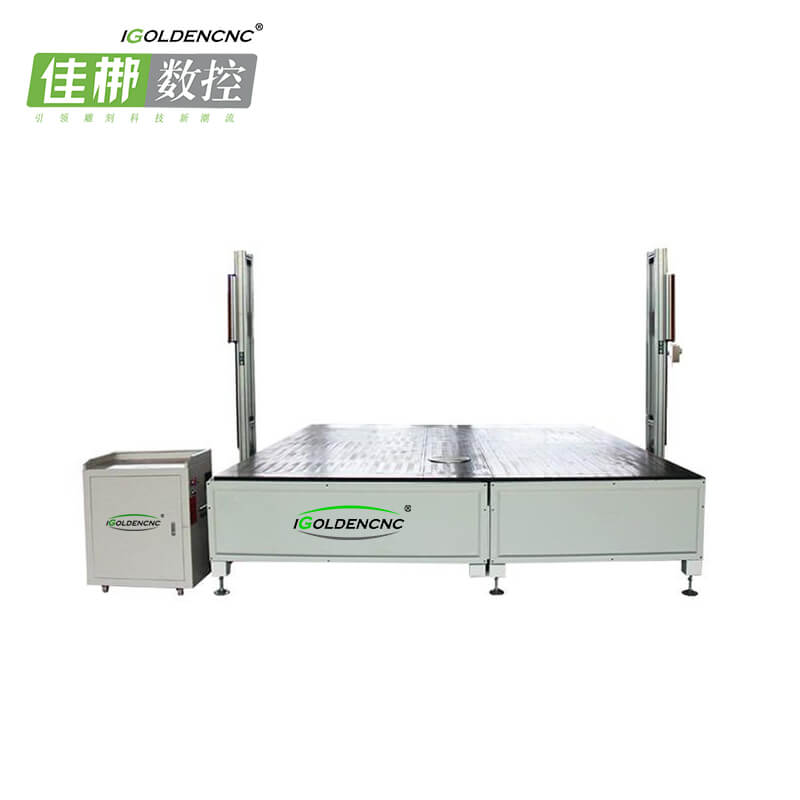 The CNC foam cutter can be used to cut a variety of foam materials, such as polystyrene foam, polyurethane foam, and expanded polystyrene (EPS) foam. It is commonly used in industries such as packaging, signage, and construction for creating custom foam shapes, letters, and logos.
The hot wire is usually made of a metal alloy that can withstand high temperatures. The wire is heated using an electrical current, and the temperature is typically controlled through a thermostat or other temperature control device. The CNC system controls the movement of the hot wire through the foam material, allowing for precise cutting of complex shapes. One of the advantages of using a hot wire CNC foam cutter is that it can cut through foam materials quickly and efficiently. It also produces clean, precise cuts with minimal waste, making it a cost-effective solution for creating custom foam shapes.
Feature
The CNC machining machine adopts independent gantry design, gantry can cut benzene board materials in batches.
Processing accuracy industry first! All mounting surfaces are machined precisely to ensure accurate operation.
Cutting software CAXA and AUTOCAD drawings with full Chinese operation can be cut without scanning,coding and programming. It also has on-line simulation function. It is very convenient to use and easy to leam.
The transmission system adopts Taiwan-made ball screw and straight-line square rail, with precise transmission without clearance and low noise. It differs from other companies that generally use chains, belts or ordinary fine threaded screw rods. Its service life and precision are vastly different.
The overall design adopts the structure of large-scale NC machine tools, and the whole bed adopts the finishing milling of large-scale five-sided milling processing center to maximize the verticality and horizontality of the equipment.
All the tables are made of 20m thick high density polyester board, which is milled by the processing center again to ensure the maximum level of the tables, and marked with positioning line and center line, with minimal details.
All the control lines adopt flexible shielded cables, high wear resistance, flame retardant, super flexible and bending resistance.
The control host adopts a brand-new professional industrial computer or DSP handle.
Transmission
IGOLDENCNC equipment adopts high-precision square linear guide, with high-precision helical rack, high-precision ball screw. Adopt double guide rails plus one screw transmission mode, high precision, long service life, large contact surface, strong load carrying capacity, the use of vertical rail technology can better ensure the stability of operation.
Most of the common equipment in the market use round rails or square rails of ordinary small brands, and the contact area is small. The device is not running smoothly.
Application
package industry,eps foam cushion making, foam mould industry, eps foam letter cutting, architectural decoration, building foam pillar cutting, advertising industry, arts and craft of foam product.