Laser Fabric Cutting Machine for Sale at Affordable Price
Thorpe
What Is Laser Fabric Cutting Machine?
2021 best Laser Fabric Cutting Machine with large conveyor table and automatic feeding system for fabric cloth, textile garment, fashion apparel, and leather fabric in industrial manufacturing. Now the best industrial fabric laser cutter for sale at affordable price.
It is a type of CO2 laser cutting system with automatic feeder and roller for all kinds of fabrics (silk fabrics, pure cotton fabrics, decorative fabrics, polyester fabrics, chemical fiber fabrics, pure linen fabrics), felts, grey fabrics, dust-free cloth, non-woven fabrics, patch embroidery, leather (leather, artificial leather, decorative leather) , Packaging leather, soft leather) and other clothing accessories and leather materials cutting or engraving. Laser fabric cutting machine is mainly used in clothing industry, shoe industry, home textile industry, embroidery industry, trademark industry, cloth toy industry, leather industry, luggage industry, umbrella industry, medical industry, purification industry, aviation industry, and warp knitting industry.
It is also known as industrial laser fabric cutting machine, industrial fabric laser cutter, industrial laser fabric cutter, industrial garment laser cutting machine, industrial laser garment cutting machine, industrial garment laser cutter, industrial laser garment cutter, industrial textile laser cutting machine, industrial laser textile cutting machine, industrial textile laser cutter, industrial laser textile cutter, industrial laser cloth cutting machine. It is an industrial CNC laser cutting system with CO2 laser tube for fabric cutting with high speed and high quality.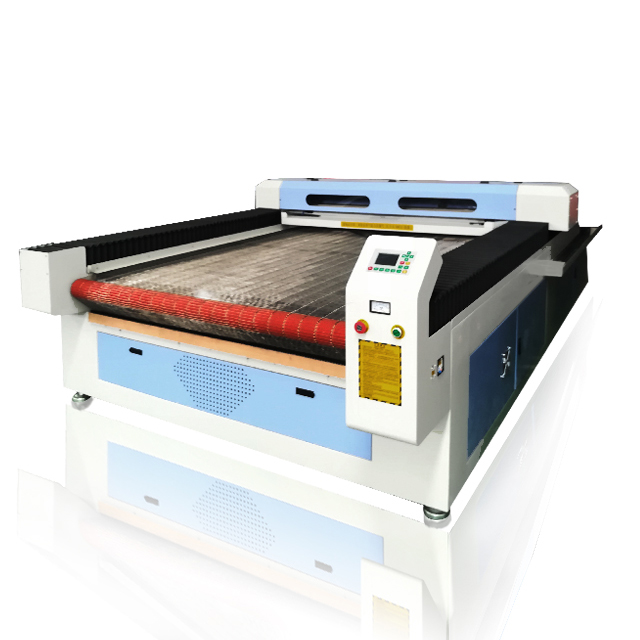 Advantage
It adopts automatic feeding system, honeycomb table with special design, convenient for free movement of processing pieces.
Big table size to meet large format fabric cutting.
Channel feeding, the feeding can be unlimited.
The original binding beeline lead rail, the fabric laser cutting table is running well and stable.
Brush roll can clean the worktable timely, without catching fire phenomenon.
Edge smoke outlet can protect the nets-worktable, extend the usage life of the laser fabric cutting system.
Feature
High stability laser tube, imported lens and mirror, long life-span.
The up-down work table design satisfies the customers need of engraving thick materials.
Adopt advanced DSP digital control system, international standard laser power supply, integrated framework style ,usb2.0 interface output can support off-line working.
Strong software function, compitable with Coreldraw, Autocad and so on.
Auto focus system, water pump, air pump and rotary attachment are optional.
Application
Advertising: billboard, logo,sign,3D characters cutting,acrylic cutting,LED/neon channel, literal-hole cut, lightbox mold,stamp,mould,seal,etc
Woodworking: MDF,wooden mould, wood planks,bamboo, density board.
Decoration: acrylic, organic glass, double color board, coconut shell, ox horn, ABS board, lamp shade,crafts,crystal,glass,ceramic,stone,metal coating,etc.
Clothing: leather,cloth,texitle,shoes,fabric,etc.