What brand of CNC cutting machine is easy to use
Thorpe
CNC cutting machine is mainly used for sheet metal cutting. Just input the set program into the equipment system, and the whole process of cutting, drilling, grooving, etc., is automatically completed by the equipment.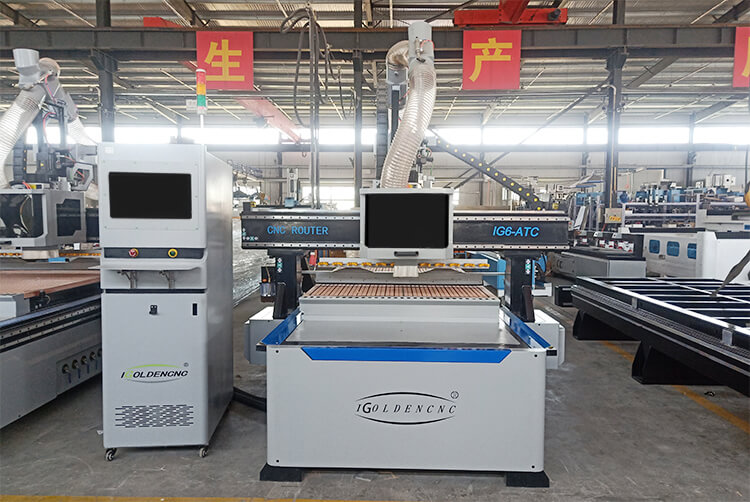 There are several common types of CNC cutting machines, such as multi-process CNC cutting machines, automatic tool changing CNC cutting machines, automatic loading and unloading CNC cutting machines, drilling machines, edge banding machines, etc. Multi-axis CNC cutting machine is an economical production equipment that can be equipped with different tools for simultaneous machining. Mainly used in the production process. The operation of the machine is relatively simple and does not require frequent tool changes. The automatic loading and unloading machine can automatically load and unload materials, saving operation time. Equipped with two work surfaces, it is more convenient to realize furniture processing.
CNC cutting machines for cabinet making and furniture making are equipped with three spindles. By automatically changing the spindles one by one, different tools can be changed. Specifically designed to meet the needs of professional cabinet making and furniture making. It moves the rack quickly through servo motors and drives. Adopt high-performance CNC controller and Syntec control system. The whole machine is welded with thickened seamless steel structure, which has good stability and is not easy to deform. This machine adopts gantry motion and can freely process various materials.

Advantages of CNC cutting machine for cabinet making and furniture making:
In the process of processing samples, we may need more than 3 tools to complete different projects. CNC cutting machines for cabinet making and furniture making reduce the time to change and adjust tools. CNC cutting machine for cabinet making and furniture making is precisely controlled by CNC system, especially suitable for furniture factory with limited budget. Why pay for a machine with 8 or 10 tools when you typically only use 3 or fewer tools per project? The three-axis can automatically change the cylinder, which is an economical choice for fully automatic CNC machine tools. Higher speed than normal 3-head CNC kits.

Cabinetmaking and Furniture Manufacturing Applications CNC cutting machine kits can be used for face milling, engraving, hollowing, cutting, 3D embossing, panel furniture, custom office furniture, solid wood furniture, wood cabinet wardrobes, cabinet doors. , Closet doors, MDF wooden doors, craft wooden doors, paint-free doors, TV cabinets, computer desks, bedside tables, shoe cabinets, bookcases, door cabinets, display cabinets, medicine cabinets, wooden speakers, wooden kitchen cabinets, screens, craft windows.
Mold making: wood, plaster, foam, wax.
Furniture manufacturing: wooden doors, cabinets, panel furniture, office furniture, tables and chairs, doors and windows.
Woodworking: speakers, game cabinets, computer desks, sewing machine desks, instrumentation.
Sheet processing: insulation, plastic chemical composition, PCB, automotive interior, bowling alley, stairs, anti-boss, epoxy resin, ABS, PP, PE and other carbon compounds.
Decorations: wood, acrylic, PVC, MDF, artificial stone, plexiglass, plastic, aluminum, copper, brass and other soft metals.
The advantages of CNC cutting machine:
The new generation of CNC cutting machine, instead of the traditional manual operation, is the leader in the woodworking industry, improving the utilization rate of the board! The cutting machine adopts the milling cutter to cut the material, which can be rotated in any direction and can cut the special-shaped plate. The average utilization rate of each board is 2.7~2.8 square meters.
Save labor, two people can operate one machine for the table saw, and one person can operate multiple machines for the cutting machine, so there is no need to worry about recruiting people or high wages and poor management.
The cutting speed is fast, the cutting machine works continuously, the table saw is pushed to stop, the board moves back and forth, and it takes manpower and time to move the board. adjust size.
The machine operates like a fool, all data sizes are calculated by the computer, zero errors and zero failure rate. The operation is simple, and any small worker can be directly employed after 3-5 hours of factory training.
The machine can pause, increase or decrease speed, adjust depth at any time, and preview flat and 3D images of engraving paths. Stepless speed regulation, convenient for engraving different materials, suitable for different industries.