Metal laser engraving and cutting machine
Tina
The fiber laser cutting machine uses internationally advanced laser source , it can output a high energy density laser beam and focus on the workpiece surface, so that the area is illuminated by the ultra-fine focus spot on the workpiece instantly melts and vaporizes. Through the machinery system moves the spot irradiation position to achieve automatic cutting . It is a high-tech equipment integrating with advanced fiber laser, numerical control and precision mechanical technology.

Fiber laser cutting machine is an affordable, easy-to-use, and versatile tool that is used for high-speed cutting of metal plates and pipes. It can help you begin a new startup venture or increase the profits of your well-established company.
Our fiber laser cutting machine is suitable for cutting carbon steel, stainless steel, alloy steel, spring steel, aluminum, copper, brass, galvanized iron, etc., and has been widely used in the processing of metal sheet fabrication, steel furniture, fire pipes, automotive, fitness equipment, agricultural and forestry machinery, food machinery, advertising, electrical cabinets, elevators and other industries.

Fiber Laser Cutting Machine Applicable Materials
Cutting stainless steel, carbon steel, mild steel, alloy steel, galvanized steel, silicon steel, spring steel, titanium sheet, galvanized sheet, iron sheet, inox sheet, aluminum, copper, brass and other metal sheet, metal plate, metal pipe and tube, etc.

Fiber Laser Cutting Machine Applicable Industries
Machinery parts, electrics, sheet metal fabrication, electrical cabinet, kitchenware, elevator panel, hardware tools, metal enclosure, advertising sign letters, lighting lamps, metal crafts, decoration, jewelry, medical instruments, automotive parts and other metal cutting fields.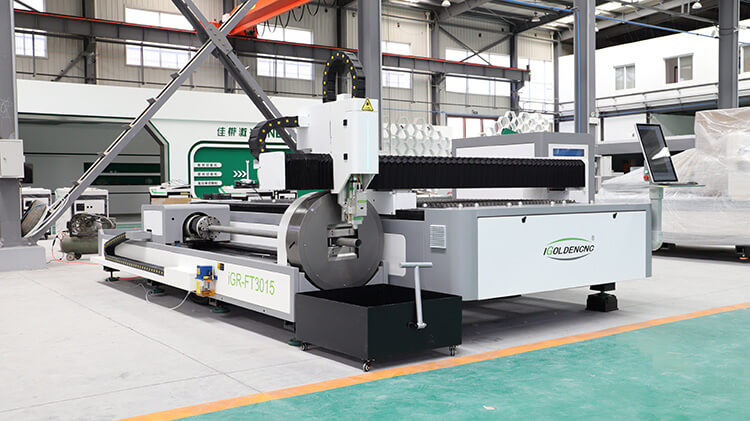 When cutting metal plate such as stainless steel or carbon steel, it has the characteristics of high speed, high precision, high efficiency and high cost performance.
Faster and more stable.
Improve processing accuracy and safety.
Increase productivity.
Some knowledge about laser tube cutting machine?
Currently, metal tubes are one of the materials having a large amount of consumption. Automatic laser cutting processing ensures high quality production of mass production. Therefore, in the field of metal tube processing, more and more manufacturers choose a metal laser tube cutting machine(CNC laser cutter, fiber laser cutter, laser cutter engraver).
So how is the price of a laser cutting machine? 
To understand the price of the laser pipe cutter, we can consider the following aspects:
1. Directly ask the price of the laser cutting machine, the answer may be in the range of hundreds of thousands to millions, so there is no reference value to really want to buy the manufacturer of the equipment. So we need special attention to the way.
2. In order to obtain accurate prices, we need to clarify our production needs and materials. In addition to the price, we also need to learn more about configuration, brand, pre-sales and after-sales service.
You can't buy at a low price.

What is the advantage of automatic laser cutting machine?
With the rapid growth of China's stainless steel pipe production and consumption, laser automatic pipe cutting machine is widely used in China. So what is the advantage of automatic laser cutting machine?
Advantages 1: Automatic laser cutting machine can be fully automatically feeding, feeding, intelligent identification and cutting head and tail, tail material ≤40mm, automatically remove internal slag, saving labor, low consumables, low consumables, targeted, For targeted, low consumables, low consumables, targeted, targeted, low consumables, low consumables, targeted, one person can operate multiple machines.
Advantages 2: Automatic laser cutting machines can replace electric processing processes, require different equipment and hard knives, such as mechanical drilling, milling, sawing, punching or cleaning burrs. It can achieve cutting, chamfering, grooves or holes, complex pipe structures score and other size and shape characteristics.
Advantage 3: Professional cutting tube, cut processing square tube, rectangular tube, round tube, elliptical tube and special shape tube, can cut metal materials such as stainless steel pipe, carbon steel pipe, seamless tube, galvanized tube, widely used in pipelines Factory, processing factory, bathroom factory, furniture factory, hardware accessories factory, auto parts factory, etc.
At present, China's laser tube cutting machine has been very mature, and more popular in the domestic market. If you want to buy laser cutting machine ,welcome to contact us!