Wood Engraving CNC Router For Woodworking MDF PVC Board
Glover
A CNC wood router is also called wood CNC machine, wood CNC router, CNC machines for woodworking, CNC woodworking router, CNC wood carving machine, CNC wood carver, CNC wood engraving machine, CNC wood engraver, CNC wood cutting machine, CNC wood cutter, 3d wood carver, CNC wood router table, CNC woodworking tool, wood engraving machine. No matter what' s it called, it is a very popular tool for woodworking now.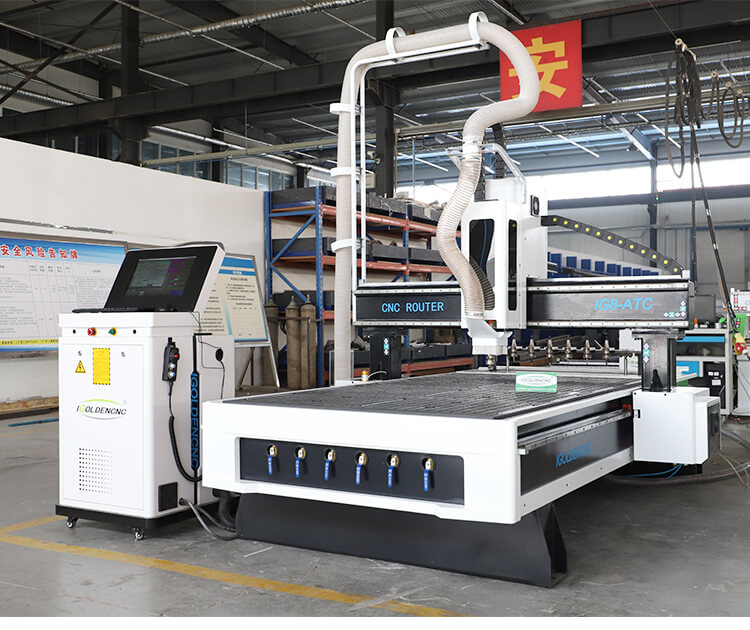 Wood engraving cnc router is a typical mechatronics equipment, reflected in the product, design, manufacturing features are:
1. Simplify the mechanical structure and improve the accuracy
The speed regulating motor is used to drive the mechanical system, thus shortening the mechanical transmission chain, which not only simplifies the mechanical structure, but also reduces the transmission error caused by mechanical friction, wear and clearance.
2. Easy to realize multi-function and flexible automation
In engraving machine, computer control system, not only replace other information processing and control devices, and easy to achieve automatic detection, data processing, automatic adjustment and control, automatic diagnosis and protection, and can automatically display, record and print. In addition, the combination of computer hardware and software can achieve flexible automation and have great flexibility.
3. Shortened product development cycle and enhanced competitiveness
Engraving machine can use professional production, high quality mechanical and electrical components, through integration skills to design and manufacture, so not only high reliability of the product, even in the use of life without maintenance, thus shortening the product development cycle, enhance the competitiveness of the product in the market
The 1325 Wood Engraving Machine is solidly built, which allows you to use it with a great number of various products and materials, starting with metal items and up to wooden wardrobes. This machine also has options for the Vacuum Combined T-Slot to clamp the piece during work.
Wood Carving CNC Router Machine Applications
1. Furniture: cabinet doors, solid wood doors, craft wooden doors, paint-free doors, screens, craft fan windows, tables, chairs, etc. Wooden door cutting, wooden door artwork carving, wave board, 3d photo carving, small or large relief works, cylindrical wood carving, 3d photo carving, etc.
2. Advertising industry: advertising signs and logos, decorative products, wood, medium density fiberboard, bamboo, plastic, PVC, acrylic, metal, stone, etc.
3. Art industry: character carving, character carving and cutting, famous brand making, small gift cutting, souvenir making, carving various decorative letters, small windows, fences, figures on walls, etc.
4. Model making: engraving metal molds such as copper, aluminum and iron, as well as non-metal molds such as marble, sandstone, plastic plates, PVC pipes and wood panels.