Metal Laser Cutting Machine
A fiber laser cutter is an automated metal cutting system that uses a CNC controller to drive the 1064nm laser beam from a fiber laser generator to move along the tool path generated by the CAD/CAM software to achieve the metal fabrication plans. It is a fine precision cutting system for both sheet metals and tubes.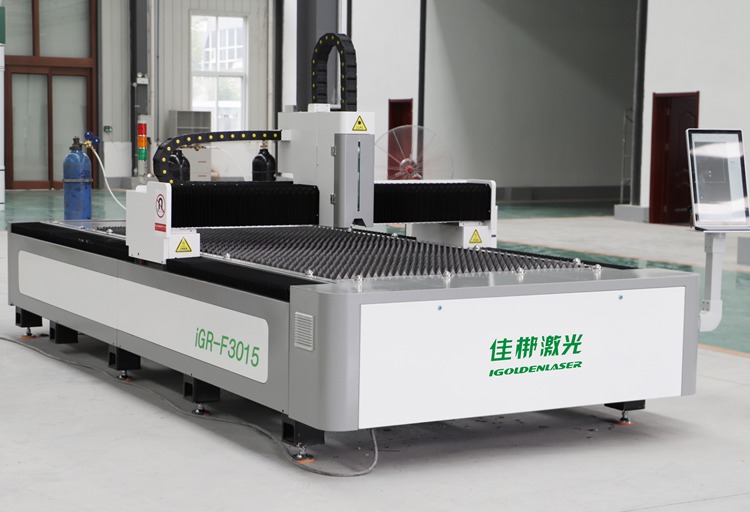 This CNC fiber laser machine is an economical and practical laser metal sheet cutting machine developed in accordance with the market's needs for metal sheet processing end-users. This model is extremely cost-effective, with a working area of 1500*3000mm, and strong adaptability. It is the ideal choice for the majority of sheet metal processing enterprises.
We provide a variety of power metal sheet fiber laser cutting machines, such as 1000W, 1500W, 2000W, 3000W, 6000W, 8000W, 12000W, and 20000W laser power options to meet your needs.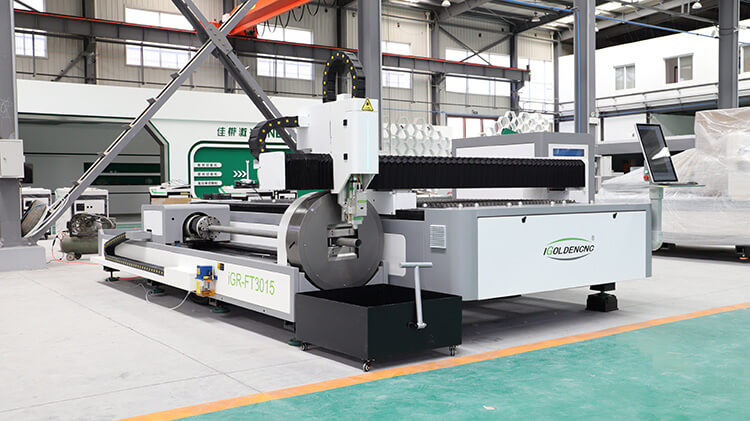 3015 fiber laser cutting machine can not only cut metal plates, but also metal pipes. It has many uses and can save the space of more than 50%, which effectively improve productivity.
Fiber laser cutting machine is specially designed for high-speed and high-quality cutting of various sheet metals and cutting various cross-section metal pipes and profiles.Used for cutting various metal plates and pipes (adding pipe cutting device), mainly used for stainless steel, carbon steel, galvanized plate, electrolytic plate, brass, aluminum, various alloy plates, rare metals, and other metal materials.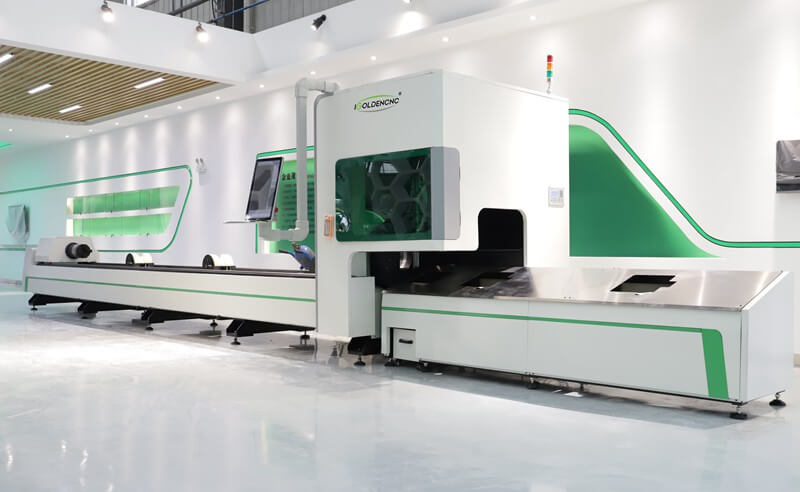 Professional tube fiber laser cutting machine—iGR-T  is used for cutting square tube, rectangular tube, oval tube, waist type tube, hexagonal tube; square tube 20 * 20- 150 *150mm, round tube Φ20-Φ 210mm wall thickness of 0.5-10mm carbon steel tube, 0.5-10mm stainless steel tube.
Fiber Laser Tube Cutting Machine for Sale at Affordable Price
iGR-T professional pipe fiber cutting machine can process all kinds of round, square, rectangule, oval tube and horn-type pipe with max.

High power fiber laser cutter is mainly designed for high power :6kw to 20kw, it is with full-protection cover, which can prevent the laser radiation and protect the worker safety, reduce the environment pollution; and it is also with auto-exchangeable platforms, which can save the materials loading time, improve the processing efficiency. The exchange platform only takes 15 seconds to complete the exchange. The iGR-P high power laser cutter has passed CE/FDA /ETL certifications, which is in line with European and American standards.
You will impress with top-notch laser cutting performance over the entire sheet thickness range, and double your production efficiency thanks to the auto loading system and dual pallet exchanger. Also a variety of intelligent functions and full cover provide you a safe and clean working environment.

Fiber laser cutting Engraving machine is an affordable, easy-to-use, Open type exchange table fiber laser cutting machine designed for cutting all metal materials with high accuracy and high efficiency. Metal laser cutting machine can help you begin a new startup venture or increase the profits of your well-established company.is ideal for standard 4′ (1200mm) or 5′ (1500mm) wide uncut sheet metal cutting, offers first-class quality and expertise with extremely low investment and operation costs for speedy cutting of stainless steel, mild steel, carbon steel and aluminum, etc.
It adopts an up and down exchange platform;the exchanging motor;exchanging within 15s.

If you're looking for a fiber metal laser machine that can cut thin metal sheets up to 25/32″ , then the 3015 is your fiber laser cutter. This fiber laser cutter has performed exceptionally well for businesses who want to cut thin metal quickly and accurately. The laser power of this laser machine can range between 1500 watts and 4,000 watts. The price of this machine will vary depending on how much wattage you need for the operation of your business. This laser machine can cut metals like carbon steel, stainless steel, brass, aluminum, copper, and various other metals.
With its small footprint and low operating costs, it is the most suitable machine series for businesses with a limited budget. 1kW, 2kW, 3kW, and 4kW power options.
Fiber Laser Cutting Machine Related Videos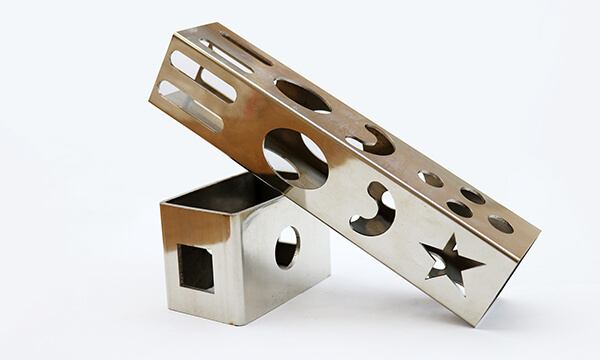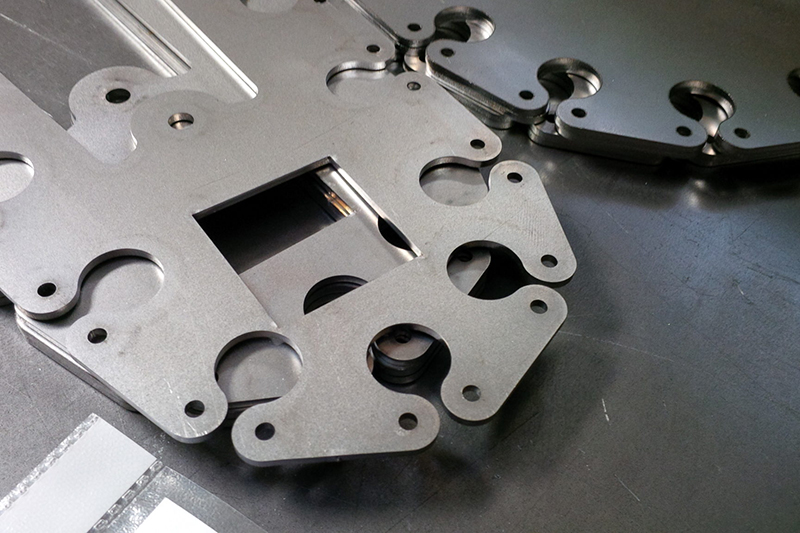 The fiber laser cutting machine for sale, also known as the metal laser cutting machine or metal laser cutter, is the laser machine adopting fiber laser source to cut steel, carbon steel, stainless steel, copper, brass, aluminum, iron, galvanized steel, titanium and various alloys. It has wide applications in metal part, equipment, ship, and automotive manufacturing, advertising signs, sheet metal structure, kitchenware, metal furniture, custom metal fabrication, and other fields. Check the 2022 best fiber laser cutting machine buyer's guide for beginners and metal workers.
The fiber laser cutter, based on functions, falls into the laser cutting machine for metal sheet, fiber laser tube cutting machine, and sheet and tube laser cutting machine. Each model of the fiber laser machine has multiple specifications and configurations.
Based on the fiber laser power, we provide 1000W / 1500W / 2000W / 3000W / 4000W / 6000W / 8000W fiber laser cutting machine and other high power laser cutting machines to realize your metal cutting designs, ideas, and plans.
In addition, there are multiple worktable sizes available for the laser sheet cutting machine. For example, 1530 fiber laser cutting machine, 1540 laser sheet cutting machine, 2040 CNC fiber laser cutter, 1560 sheet metal laser cutter, 2040 fiber laser cutting machine , 2060 fiber laser cutter, etc. Feel free to contact us if you want to know more about the fiber laser cutting system or the laser cutting service.
---
CO2 laser cutter is the best laser machine uses CO2 laser cutting technology (CO2 laser beam) to cut and engrave wood, MDF, acrylic, plywood, PVC, plastic, paper, jeans, ABS, fabric, PVB, textile, leather, stone, glass, thin soft metals, etc, which has wide applications in the advertising industry, crafts industry, packing industry, garment industry, educational institution, small business, and so on. So it is also called non metal laser cutting machine, cheap CNC CO2 laser cutting machine near me, home use CO2 laser engraving cutting machine, and CO2 laser CNC wood cutting machine.
CO2 Laser Cutting Machine Applications
1. Woodworking & Furniture Industry CO2 laser cutting machine can laser cut wood. For example, the CO2 laser cutting machine can laser cut wood designs, laser cut wood panels, laser cut wood door panels, laser cut cabinet door panels, etc.
2. Advertising Industry laser cut acrylic signs, acrylic tablet, laser cut acrylic hangings, acrylic photo frame, acrylic lights, acrylic nameplate, etc.
3. Garment Industry laser cut leather, laser cut jeans, laser cut cotton, laser cut textiles, laser cut synthetic fiber, laser cut polyester, laser cut nylon, laser cut satin, etc.
4. Decoration Industry plywood lights, foam molds, laser cut glass, laser cut paper decorations, laser cut MDF designs, laser cut plastic board, laser cut rubber ornaments, etc.
5. Arts & Crafts Industry laser cut wooden picture frame, laser cut plywood toys, laser cut ivory, laser cut window grilles, laser engrave models, laser engrave mural, etc.
CO2 Laser Cutting for Wood and Nonmetal Solution
CO2 laser engraving and cutting machine series adopts international advanced DSP control technology, they have the high speed, high cutting accuracy and high stability, the quality and price ratio is very high. The main system can be commanded by U-disk without PC connection. It has the functions of imitative cutting, color separating cutting, non-stop cutting once off power, etc.Engraving and cutting of paper, fabric, plastic, non woven cloth in garment and toy industries, also inclusive of precise cutting to non-metal materials, like acrylic and MDF board in handbag, glove, mold, advertisements, decoration, electrical appliance and plastic industries.
---